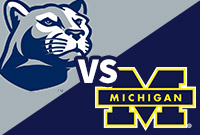 The Michigan Wolverines must have adamantium bound to their skeletons because they seem to be indestructible as they head towards their Saturday, September 24th game versus the Penn State Nittany Lions at Michigan Stadium in Ann Arbor. The
NCAA football betting odds
for the match-up are as follows:
Penn State +18½ (-110) +700
Michigan -18½ (-110) -1100
The
Michigan Wolverines sleepwalked through the Colorado Buffaloes
, so to speak. Michigan went the first 21 minutes without scoring a touchdown, and starting QB Wilton Speight's numbers were rather modest, completing 16 of 30 attempted passes for 229 yards – although, like he did like Annika Hansen and went 7 of 9 in the second half. The offense finished with 397 total yards, including a forty-plus-yard TDs by Amara Darboh and De'Veon Smith. The final score was 45-28, truly a testament to how high the Wolverines' offense has set the bar for itself this regular season. But if the offense just kinda went through the motions, the defense was tested for the first time this year, and it passed the test with flying colors. The Buffaloes move the ball for 195 yards in the first quarter, but Michigan allowed only six first downs and 130 yards the rest of the game.
As predicted
, the NCAA football betting odds favored Penn State and the Nittany Lions came through with a 34-27 win over the Temple Owls. It wasn't easy, though. Temple scored 14 points off Penn State turnovers in the second half. Running back Saquon Barkley took umbrage at this and tore through the Owls' defensive line in the fourth with a 55-yeard TD run to snuff out that happy crappy. In addition to that, wide receiver Chris Godwin had seven receptions for 117 yards and one touchdown. Quarterback Trace McSorley was 18 for 24 for 287 yards and one TD. The Lions headed out into the field without four defensive starters (LBs Brandon Bell and Jason Cabinda, defensive back Grant Haley, and defensive end Evan Schwan) and lost another two before the second quarter (safeties Marcus Allen and Malik Golden). Of the available players, Barkley, Godwin, and McSorley will all have to play their part to upset the Wolverines.
Michigan vulnerable to a few explosive gains against UCF's and Colorado's spread offenses, an example the Nittany Lions might want to follow. Penn State has allowed opposing teams to reach the end zone on nine of 13 red-zone tries, and the Wolverines have scored 12 touchdowns in 18 red-zone opportunities. Thus keeping Michigan to field goals will be crucial for the Lions. The Wolverines' offense is serviceable if not spectacular, but Penn State's inconsistent defense could find itself doing Michigan a few unintentional favors. And the Wolverines' defense should be enough to keep McSorley and the rest of the Lions' defense off the gridiron before they even know what hit'em. Taking into account all factors, NCAA football betting fans who frequent
online sportsbook
s should expect Michigan to open Big Ten play with a 4-0 record.