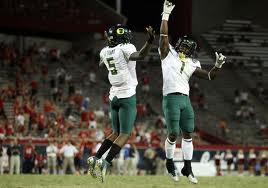 On Friday Night, the No.3 Oregon Ducks won the Pac-12 Championship game over the No. 7 Arizona Wildcats. The game took place at Levi's Stadium in Santa Clara, California, with the Ducks winning by a score of 51-13. Oregon is now 12-1 on the season, while the Wildcats ended 10-3. Let's recap the game.
The scoring in the game was mostly on Oregon's part as they scored 6 points in 1st, 17 points in 2nd, 21 points in 3rd and 7 points in the final 4th quarter, bringing their game point total to 51. On the other side the Arizona team scored 7 points in the 2nd quarter and 6 points in the final 4th quarter, bringing their game point total to 13.
The teams statistics for this game saw the Wildcats making 10-1st downs on 224 total offensive yards, with 113 passing and 11 rushing yards in the game, with 2 turnovers, and controlling the ball for just 21:05 minutes in the game. The Ducks on the other side accumulated 31-1st downs with offensive yardage of 627 yards, passing for 326 and rushing for 301 yards, while they controlled the ball for almost ¾ of the 60 minute game. Thus, statistically the Ducks more than doubled the stats of the Wildcats.
The Ducks began this NCAA FB Wk 15 in the 2nd spot of the CFP rankings, and now looking at playing in the playoff Rose Bowl game. The other rankings have the Crimson Tide 12-1 at No.1, 10-1 Horned Frogs at No. 3, and the 12-0 Seminoles at No. 4 with 11-1 Ohio State at No. 5 as of the last games.
This game between the Ducks and the Wildcats was played on a rain soaked night in the valley of the Silicon with an attendance for the game at 45,618 at the $1 billion Levi's Stadium, as the Oregon QB Mariota increased his possibilities for the Heisman Trophy as the Duck outgained the Wildcats 640 yards to 224 yards. This was a sweet win for the Ducks, since their only loss for this season was to Arizona back on the 2nd of October, when the Wildcats beat the Ducks 31-24. Plus last year 2013, it was Arizona who beat the Ducks, which kept the Ducks from playing in the Pac 12 conference title game in 2013.
In this game the Wildcats were struggling, and their coach Rodriguez benched starting QB Solomon who was 6 of 34 yards, for QB Scroggins 3 for 11 for 79 yards and 1 TD, who later in the game was benched for 3rd QB Randall who ran for a 25 yard TD on the final play of the game.
So now for those that bet on college football at an offshore sportsbook site, you will have to wait for this weekend's games to finish to see the latest CFP rankings.