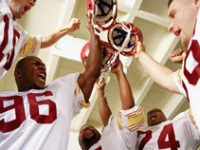 As we prepare for the 2014 NCAA football betting season, let's take a look at one of the favorites, Ohio State. Coach Meyer has led them on a winning path in his two years at OSU. However, the wins have Meyer finding it hard to believe that he had his first 12 wins in his first season and then last year end the season with two painful loses.
As he starts his 2014 tenure, he has a couple of his units that need some work, and QB Braxton Miller will be injured for his final season. The offensive line, which was OSU's strength in the first two seasons, lost four of the five starters. Presently, they have six or seven who thus far in practices have showed a lot of promise.
Meyer has made some drastic changes in the pass defense after their Big Ten title game loss to Michigan State and the Orange Bowl loss to Clemson when the pass defense was shredded by both teams. Ohio State will play pass press coverage while using a rotation of cornerbacks in an attempt to limit completions that are underneath and over the top.
The offensive line has some holes to fill, but on defense the line is looking good, filled with young blue chippers and senior all star tackle Bennett. In the secondary, they have Spence (First Team All Big Ten) with 8 sacks, Bolsa with 7.5 sacks, and Washington who will be a big help to the defensive secondary.
In the QB slot Miller the two times winner of the top player in the Big Ten had shoulder surgery on his throwing arm, and missed spring training, and has been ruled out for the season after reinjuring the shoulder on Tuesday. After the injury was announced, Ohio State's futures odds to win the national title dropped from +1225 to +4200.
Buckeyes fans are looking forward to the 8th of November, when their team plays the Michigan State Spartans with the game in East Lansing. The 2014 10th ranked MSU Spartans last season knocked the No. 2 Ohio State winning streak off track and out of the National Championship discussion. They lost to the Spartans in the Big Ten title game 34-21. This 2014 game will certainly be a big game for both teams with the winner taking the lead in the new Eastern Division race of the Big Ten.