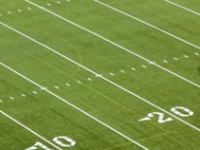 This Saturday the 29th of Nov. 2014, week 14 of NCAA football a game that may be equally important for the CFP rankings is the game with the 5-6 Michigan Wolverines (4th Big Ten East) playing at the 10-1 No. 6 Ohio State Buckeyes (1st Big Ten East) with the game being played at the Ohio Stadium in Columbus, Ohio at 12 PM ET and on ABC TV.
The Ohio State Buckeyes are favored in the game at 20 ½ with the O/U at 51 ½. This is a crucial game for the Buckeyes, as they have clinched a slot in the conference title game, but making the 4-team national playoffs could easily be affected by the outcome of this game with this key rival Michigan.
Offensive leaders for the Buckeyes are QB Barrett who has completed 190 of his 293 passes for 2,658 yards, with 33 touchdowns and 10 interceptions with a completion rating of 64.8 percent, while backup QB Jones has thrown for 111 total yards and 2 touchdowns. RB Elliott and QB Barrett have combined for 236 carries for 1.910 yards, with Elliott scoring 8 touchdowns and Barrett scoring 9 touchdowns. Receivers Smith & Thomas combined for 72 receptions for 1,215 yards with Smith scoring 8 touchdowns and Thomas scoring 8 touchdowns in the game. The Buckeyes are averaging 44.3 points per game, while allowing their opponents 22.5 points per game, and Ohio State is 5-1 at home and 5-0 for road games this season.
For the Wolverines, their only hopes at present are to stay Bowl eligible, and to do that, they need a win in this game, which also has a lot to do with their Coach Hoke's future as well. He is in his 4th season with a 31-19 record, and during his tenure, he has had a decline in their game, their record, and the attendance at their games.
The offensive leaders for the Wolverines this season are QB Gardner, who completed 152 of his 251 passes for 1,663 yards and 8 touchdowns with 14 interceptions, and a completion rate of 60.6 percent. Backup QB Morris threw for 128 yards with 3 interceptions. RB's Smith & Green combined for 187 carries for 986 yards with Smith scoring 6 touchdowns and 3 interceptions. Receivers Funchess & Darboh combined for 87 receptions for 1,057 yards with Funchess scoring 4 touchdowns and Darboh scoring 2 touchdowns. The Wolverines have averaged scoring 20.3 points per game, while allowing their opponents some 20.5 points per game this season. Michigan is 4-3 at home and 1-3 on the road in 2014.
Many have said that this is the last game for Michigan Coach Hoke, and if that's true, he could make his leaving very memorable by beating the Buckeyes, which would bump them out of the CFP race for 2014. This the last regular season game for both the Wolverines and the Buckeyes, but if you bet on college football at an online sportbook, watch for the lines on upcoming NCAA conference title games.