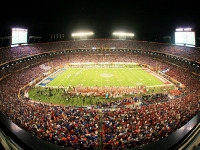 With there being more than a 100 FBS college football programs playing right now, there will always be at least one new coach each year. There are many names that will be new to the NCAA football world in 2015 but one will stand out from the rest.
Jim Harbaugh – Michigan
After years of struggling in the Big Ten and constantly losing to bitter rival Ohio State, Michigan went all in as they chose Jim Harbaugh as their new coach. He played as a quarterback for the Wolverines and eventually became the head coach at Stanford and then for the San Francisco 49ers. Harbaugh's presence is expected to be big for recruiting purposes. Still, there is a debate over whether or not Shane Morris is the right quarterback for the Wolverines.
Jim McElwain – Florida
Jim McElwain is a former assistant with Alabama. While he has experience in the SEC, he will be subjected to some real pressures. He will be dealing with a major quarterback battle as Will Grier and Treon Harris will be competing to be the team's new quarterback. He is expected to get help from Martez Ivey, the most heavily-coveted offensive line prospect in the game.
Mike Riley – Nebraska
Nebraska grabbed Mike Riley from Oregon State to be the Cornhuskers' new coach. Riley has been considered to be a polar opposite of former Huskers coach Bo Pellini in terms of his attitude and coaching style. Riley will have Tommy Armstrong Jr. back as the team's quarterback.
Paul Chryst – Wisconsin
Paul Chryst was an assistant with Wisconsin for a few years and will now be taking over the head position. Although Chryst understands the Badgers' system, he will need to find a way to replace Melvin Gordon, the team's star running back from last season.
Chad Morris – SMU
While it looked like June Jones was leading SMU to respectability for the first time in the team's post-death penalty era, the team has struggled since moving to the AAC. The Mustangs went 1-11 last year and lost most of their games by at least thirty points. Chad Morris, who was the offensive coordinator at Clemson for the past couple of years, will look to turn things around in Dallas.