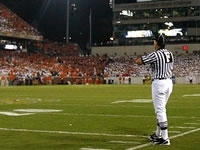 Week 8 was the most exciting so far, as a number of Top 25 teams met each other on the field, from the Gamecocks and Gators, to LSU versus A&M's Johnny Football. With another weekend of college football play concluded, let's take a look at the results and changes in the Top 25.
Alabama continued its dominance, with a 44-13 win over the Tennessee Volunteers. No surprises there, as the Crimson Tide had full control of the game, up 23-10 by halftime. They next play No. 11 Mississippi State, and are listed as 23 ½ point favorites. The Bulldogs went from No. 12 to No. 11 with a 45-3 dismantling of Middle Tennessee. Start your NCAA Football Betting on Week 9 Games.
The Florida Gators had their way with No. 7 South Carolina. The Gators won easily, 44-11, keeping their No. 2 ranking in the process. They were up 21-6 by halftime, and 37-8 after three quarters. Florida plays No. 10 Georgia this week, and are 6 point road favorites. The Gamecocks fell from No. 7 to No. 13 after their loss, and play the Tennessee Volunteers this week. They are 14 point favorites in that one.
Oregon has a few extra days to recover, after their Thursday night defeat of Arizona State, 43-21. The Sun Devils may have covered their previous two home games by 27 and 23 ½ points, but not this time. The Ducks were up 43-7 by halftime and took the second half off. Oregon dropped from No. 3 to No. 4. They next play Colorado, and are 45 ½ point favorites.
Kansas State rose from No. 4 to No. 3 with a 55-14 win over No. 13 West Virginia. The Wildcats were up 31-7 at the half, and 52-7 after three quarters. They play No. 14 Texas Tech this week, and are 7 ½ point favorites. The Mountaineers will try to bounce back in Week 10, but have dropped to the No. 19 spot.
Rounding out the Top 5 is Notre Dame, which won 17-14 over BYU. They needed until the fourth quarter to take the lead for good, but the Irish held onto their undefeated record, as well as the No. 5 rank. They next play No. 8 Oklahoma on the road, while the Sooners are 8 point home favorites.
LSU had a difficult time against the Texas A&M Aggies. They were down 9-0 after the first quarter, and the game was tied 14-12 throughout the third quarter. Three interceptions from Johnny Football Manziel cost the Aggies, however. The Tigers have Week 9 off, but held onto their No. 6 ranking. They next face the Crimson Tide in Week 10. The Aggies dropped from No. 18 to No. 20, and play Auburn this week. In that one, they are 14 point road favorites. Check the NCAA Football Odds for Week 9 Games.
Oregon State rose from No. 8 to No. 7 with a defeat of Utah, 21-7. They next play Washington and are 4 point favorites. USC rose from No. 10 to No. 9 with their win over Colorado 50-6. They take on Arizona this week and are 6 ½ point road favorites.
Check back all week with SBG Global sportsbook, as we cover some of the biggest NCAA football games of the year so far. Can Notre Dame pull off an upset over the Sooners? Will Alabama continue its dominance by destroying Mississipi, or are they looking ahead to LSU in Week 10? These questions and more will be answered as Week 9 unfolds.
Open an Account for the best Sportsbook Parlay and Vegas Teaser Payouts in the Industry.
Check the Game Podcast