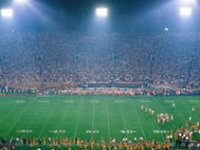 With another week of college football on the books, the latest Top 25 rankings have been updated once again. Let's take a look at some of the action from this weekend, as well as important changes in the standings.
With no surprises, Alabama held onto the No. 1 spot, after defeating Missouri 42-10. Oregon drops from No. 2 to No. 3, despite having Week 7 off. Taking the No. 2 spot is Florida, which defeated Vanderbilt 31-17. Check the College Football odds for Week 8 Games.
Kansas State moved up from No. 6 to No. 4 after defeating Iowa State 27-21, while Notre Dame moved up to the No. 5 spot after an overtime victory over the Stanford Cardinal. Stanford dropped from No. 17 to No. 20. Louisiana State had dropped as far as No. 9 in the standings before turning it around this Saturday, defeating South Carolina, 23-21. That pushed LSU back to No. 6. South Carolina, on the other hand, dropped from No. 3 to No. 7 after their defeat at the hands of the Tigers.
Oregon State beat up on BYU by a score of 42-24, earning them a move up from No. 10 to No. 8. Oklahoma, facing Texas this weekend, pulled off the upset in dramatic fashion, winning 63-21. The Sooners, ranked No. 13 entering the weekend, broke into the Top 10, currently ranked at No. 9. The Longhorners dropped from No. 15 to No. 25.
USC, after beating Washington 24-14, climbed from No. 11 to No. 10. Georgia had Week 7 off, but fell from No. 5 to No. 11 after losing 35-7 to South Carolina in Week 6. Mississippi State earned a move up from No. 19 to No. 12 after winning 41-31 over Tennessee. The Bulldogs are still undefeated on the season. Start your NCAA Wagers on Week 8 Games.
We now come to the biggest drop of the week, West Virginia. Ranked at No. 5 entering Saturday's contest against Texas Tech, the Mountaineers lost 49-14. They are now ranked No. 13. Florida State, despite defeating Boston College 51-7, dropped a couple places from No. 12 to No. 14. Rutgers, on the other hand, moved up from No. 20 to No. 15 after defeating Syracuse 23-15. Rutgers is also undefeated so far this year.
Week 8 kicks off on Thursday night with the return of the Oregon Sooners to the field, as they take on Arizona State. There are also a number of great matchups this weekend, with South Carolina playing Florida, Kansas State taking on West Virginia, and LSU playing Texas A&M. Check back with SBG Global Sportsbook's college football odds all week as we preview the most important games.

Open an Account for the best Sportsbook Parlay and Vegas Teaser Payouts in the Industry.
Check the Game Podcast