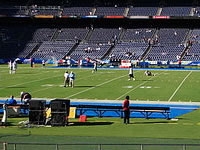 As we move along in the NCAA FB 2015 Week 5 season we preview an interesting game between the Longhorns of Texas playing at the No.4 Horned Frogs of TCU with the game played on Saturday the 3rd of October 2015 at the Amon G. Carter Stadium in Fort Worth, Texas with kick-off scheduled for 12 PM ET.
The early odds for those that Bet on College football at an Online sportsbook have the Horned Frogs of TCU the favorites at -14 ½ with the Over/under at 71, while the underdog Longhorns of Texas are at +14 ½ with no ML available at this time.
The ranked TCU team had a close call in their last game as the slid by the Red Raiders of Texas 55-52 this past Saturday in Week 4. They were preseason pick to win the Big-12 Title but injuries have seen them struggle, and come up with tough wins to date. But they need to be cautious playing the Longhorns of Texas who come into this game with 1 win and 3 losses.
As Texas is not a team that should be overlooked or underestimate, as their games to date have been against competitive teams, and in the last two games they lost in the last minutes of those games. In t his road game it is thought that the Longhorns could still makes this game very challenging for the Horned Frogs.
For the fans of the Longhorns of Texas, the team has struggled in their waning minutes of their last 2 games, like in their game against the Cowboys of Oklahoma State their punter struggled, had to scramble and got off a 10 yard punt, and the Cowboys got the ball and kicked a field goal to win the game. That loss, was a game where Texas has 1 or its better defense performances, as they took the ball away from the Cowboys on 3 occasions and held OK State in the 4th quarter to just 14 plays gaining a mere 26 yards. Also their CB H. Hill in the game had an interception that he took for some 42 yards and a TD.
The Texas defense has 2 backs that have the talent to make the TCU QB T. Boykin to force him into interception, as he has 3 interceptions in 4 of his game this season. However, offensively they will need to increase its production if they are to stay with the Horned Frogs in this game.
Their QB J. Heard against OK State struggled as he had 1 intercept and completed just 9 of his 17 passes for some 118 yards. Prior to that game his performances were better as he averaged 10 yard in each of his pass completions. That against a TCU defense that ranks 82nd in the Division I and allowed opponents each game some 235 yards.
The Longhorns QB Heard has some talented WR's with A. Forman, J. Burt and D. Johnson who have each had 100 yards offensively this season, and Johnson has 13 receptions, and the only player with double digit catches, but had not score a TD to date.
If the Longhorns are to win this game they need to dominate in their offensive rushing game, as the TCU defense has allowed some 170 yards in rushing offense to their opponents to date, and have had 10 rushing TD's scored against them this season. Texas QB Heard also is rushing threat as a solid running QB who has 3 rushing TD's to date and accumulated some 296 yards rushing this season. Remember RB Johnson also has 3 rushing TD's and RB Foreman has 2 TD's to date.
If you're a Horned Frogs of TCU fan, you need to consider that your team is playing with an injured roster, as their top pass rusher J. McFarland and top CB R. Texada are out with injuries, along with some defensive players who are key to their success. That resulted in the Horned Frogs allowing the Red Raiders of Texas Tech to accumulate some 608 yards offensively in their game last Saturday and 7 TD's.
However, the TCU offense can make up for their struggling defense as the offensively they are ranked 2nd in Division I A with a total offense that has averages some 636 yards each game. In the game against Texas Tech the Texas RB Green got a tipped pass that was going to TCU WR Dotson and Green took it in for the winning TD.
RB Green ended that game with 2 TD's on 28 carries where he accumulated some 164 yards, while WR Dotson had 18 receptions for 268 yards and 3 TD's in the game. In that game 3 of QB Boykin's receivers in Listenbee, Gray and Porter were not in the lineup.
This TCU QB Boykin is a Heisman favorite and he had a strong performance it that game with Texas Tech as he passed for 4 TD's as he completed 64% of his pass attempts accumulating some 486 yards passing. In this game he will have a favorable match as the Longhorns secondary has allowed opponents to date some 278 yards in each game. In their ultimate 10 games TCU has won all 10 of those games.
It is predicted that the Horned Frogs offense will be bursting and the defense improves as Texas will rout the Longhorns in this game.