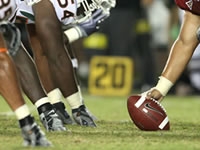 The Brigham Young University Cougars travel to Idaho on Thursday night to attack a herd of Boise State Broncos. The games opening kickoff in Bronco Stadium is scheduled for 9:00 PM ET and can be seen nationally on ESPN.
BYU (2-1) saw its number 25 ranking disappear after a disappointing 24-21 loss to Utah last Saturday night. The game ended amid a bit of mayhem after an initial miss of a field goal by BYU with one second remaining was followed by miss number two from 15 yards closer after anxious Utah fans rushed the field prematurely. Look for the usual passing drills from Cougar QB Riley Nelson against the Broncos. Start your NCAA Football Gambling on BYU vs. Boise State Game.
Boise State (1-1) on the other hand, returns to the top 25, ranked 24, after defeating Miami-Ohio 39-12 last week. RB D.J. Harper ended with 162 yards and scored 4 touchdowns, including 3 on the ground in leading the Broncos to victory. The Broncos held a 294-49 edge in rushing yards, after suffering a 213-37 deficit in rushing yards in Week 1.
BYU is scoring an average of 32 points to Boise State's 26, with both teams yielding just 14 points thus far.
The Cougars are +64 ATS in their last 8 games, going 7-1 ATS in that stretch. BYU is also 7-0 ATS recently, and 14-6 ATS on the road. They are 7-0 ATS as the underdog, but 1-6 ATS in their first of two road games.
The Broncos are just 2-6 ATS recently, and 0-7 ATS at home. They are, however, 16-4 ATS against non-conference opponents. The visitor is 22-7 ATS in Boise State games. Check the NCAA Football Betting Lines for BYU vs. Boise State Game.
These two teams last met in 2004, where Boise State needed a 44-yard TD pass to escape with a 28-27 win. In that one, the Broncos were favored by 21 points.
Boise is looking for its 19th straight win at home in September and is favored by 7.5 points on a $110/$100 moneyline. The O/U of 48 total points is also available at a -$110.
Open an Account for the best Sportsbook Parlay and Vegas Teaser Payouts in the Industry.
Check the Game Podcast: