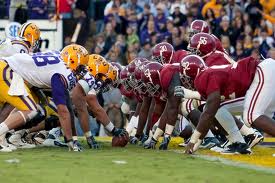 Football fans who Bet on College football have to love this Saturday, November 9th 8pm South Eastern Conference game as the teams, the #13 Louisiana State TIGERS ( 7-2, 3-2 SEC 3rd West) visiting the #1 Alabama CRIMSON TIDE (8-0, 5-0 SEC 1st West) and both seeking the SEC Championship while Bama is No.1 in all rankings and plans to stay there. This night game is played at the Bryant-Denny Stadium located in Tuscalossa, Alabama with a seating capacity of over 100,000.

At the Online sportsbook the fans like to review what took place last year between these two SEC rivals and that game was closer than the 14-3 score that had Bama leads at first half with two TD's, then in the second half LSU took over the lead 17-14 as the LSU defense was playing at its best and the offense was looking up, but then a late TD and with only 51 seconds in the game and Bama's National Title slipping away, QB McCarron scrambled some 58 yards for the game winning TD and the 21-17 victory over then #5 LSU TIGERS. Prior to this game the Crimson Tide had not trailed in a game during the entire 2012 season until this one.

The last game for LSU Tigers was with Furman in Death Valley on October 26th when they amassed close to 700 yards offensively in the game winning 48-16. In this game the Tigers QB Mettenberger threw 3 TD passes and totaled almost 330 yards in the air. LSU managed the 700 yards offensively compared to 198 yards gained by Furman. Amazingly the game at Half was LSU 20 Furman 16 and in the second half Furman was not able to score for the rest of the game as the Tigers scored 28 more points.

For the Sportsbook fans the last game that Bama played the Tennessee Volunteers in Tuscaloosa and won the game 45-10 as they prepared for the big game this weekend with Louisiana State and that's ads to their outscoring their opponents in the last six games scoring a total of 246 points to the opponents 26. The Bama QB in that game passed for some 275 yards on 19 of 27 and 2 TD's in the 1st half.

If the Tigers can the offensive yardage in this game against the Tide as they did in 2012 and their defense plays to their potential, then LSU has a good shot at defeating the #1 Crimson Tide and changing the BCS Ranking! Good Luck Tigers and Alabama on this great SEC rivalry matchup!