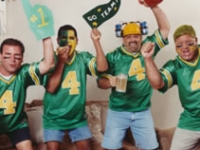 The Rebels of Ole Miss will have to be highly rebellious if they are to leave Tuscaloosa with a win after facing the Alabama Crimson Tide on Saturday night. The late night affair is scheduled for a 9:15 PM ET kickoff in Bryant-Denny Stadium and will be shown on ESPN.
Mississippi (3-1) has won 3 of 4 this year, including pitching a 39-0 shutout against lowly Tulane last week. They have not however, seen the likes of No. 1 Alabama. The closest they've come to solid competition was against the then-No. 14 ranked Texas Longhorns who scored 66 points to the Rebels 31 two weeks ago. In those two games, they went from a 24 ½ point loss spreadwise, to a 31 point win ATS. Start your NCAA Football betting on Ole Miss vs. Alabama Game.
Alabama (4-0) is so deep on both the offensive and defensive sides of the ball, you won't find statistical leaders anywhere atop the SEC charts. All you have here is a number 1 team with rested starters and young players excelling while "learning the ropes." The Crimson Tide defeated little Florida Atlantic 40-7 last Saturday following 2 shutouts the previous 2 weeks. Against Florida Atlantic, the Crimson Tide held a 25-6 edge in first downs, and a 503-110 edge in offensive yards. In fact, they have held their last 17 opponents in lined games to fewer than 15 points, while averaging 58 ppg in their last 11.
Alabama is 12-4 ATS recently, and 32-15 ATS over a longer period. They are 8-2 ATS in the SEC. Ole Miss is 5-14 ATS as of late, but 10-4 ATS as the road dog. The favorite is 6-0 ATS in Ole Miss games. The Crimson Tide is 18-9 ATS against the Rebels, but just 2-5 ATS lately in this series. Between 2005-2009, Ole Miss lost by 3, 3, 3, and 4 points, despite being dogs of 14, 16, 6 ½, and 12.
Last year's game bucked the trend of close Tide-Rebels matchups, however. In that one, Alabama stomped Ole Miss 52-7, and were favored by 27 points. They held edges in first downs, 29-9, and rushing yards, 434-27. Alabama is looking for it's 9th straight win against Ole Miss.
Alabama is a prohibitive 31 point favorite at home on a $110/$100 moneyline, according to the SBG college football odds. The same moneyline holds for the O/U of 54.5 total points.
Open an Account for the best Sportsbook Parlay and Vegas Teaser Payouts in the Industry.
Check the Game Podcast: