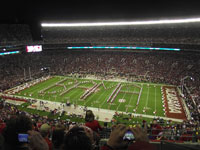 After some exciting games in 2015-16 NCAA Football in Week 4 we move on to Week 5 with some more interesting games and the 1st we preview is the Razorbacks of Arkansas 2-3 playing at the Crimson Tide of Alabama 4-1 who last week were ranked No. 13 but this week should move up in the ranking. The game is on Saturday the 10th of October 2015 and played the Bryant-Denny Stadium in Tuscaloosa, Alabama with kick-off at 7:05 PM ET and seen on ESPN TV.
These 2 teams both had victories this past weekend but in this game only 1 will be victorious in this Week 6 game between these teams and their 2nd SEC Conference win of the season.
Should you Bet on College at an Online sportsbook and are a fan of the Razorbacks of Arkansas your team had a great win this past Saturday as the beat the Volunteers of Tennessee 24-20 in that road game . With that win they ended their losing streak and the thought of losing some 10 straight games.
Arkansas could not have picked a better time to post a win over a top team, as now they travel to Tuscaloosa to take on the 1 loss Tide of Alabama this coming Saturday. The feat of back to back road games is not an easy one, but will be less difficult if their offensive rushing game is as good this weekend as it was last Saturday.
That performance saw RB A. Collins, a junior score 2 TD's while rushing for some 155 yards, while RB R. Williams, a freshman also rushed for 100 yards, as the team had a total of 275 yards rushing against the Volunteers of Tennessee. But if the Razorbacks want to win they better have all capable receivers out, as the Bama defense is very strong against the rush, and have allowed their opponents a small 56.7 yards rushing each game that ranks 4th in the nation. That plus QB B. Allen who only completed 11 of his 24 pass attempts against the Volunteers for some 220 yards, will need to step up his passing game if he wants to end his teams bad performances in Tuscaloosa, because Arkansas has lost their ultimate 5 games played there, with the last game being back in 2003 and the score indicated to evenly matched teams as the score ended Alabama 34 and Arkansas 31.
For the fans of the then No.13 Crimson Tide of Alabama, you probably had visions of your team fading out this season, but then they made a comeback with a huge win over the No.8 Bulldogs of Georgia and a arch rival in the SEC. Alabama beat Georgia 38-10 and it was a game that the Tide played very good on offense, defense and special teams in that game. Their QB J. Coker had a good game completing 11 of his 16 pass attempts for 192 yards a 1 TD and he also ran for 1 TD. Helping in the scoring was RB D. Henry rushed for 150 yards and 1 TD on a 30 yard dash into the end zone.
The defense also played a large role in this win with players like DB E. Jackson who stashed the Bulldogs hopes of winning as he had a pick six for some 50 yards off Bama back-up QB B. Ramsey. Plus they blocked a punt deep in their own zone, and that was returned for a TD late in the game.
The Crimson Tide in the past few years has ruled over Arkansas, but they still have some issues to resolve prior to this coming game with the Razorbacks. For one thing they need to remedy clutch ball control, as in the last game with Georgia; the Alabama team only managed to convert 1 third down in some 12 different occasions and fumbled the ball on 2 occasions.
Should the Tide defense control early against Arkansas as they did with Georgia with their 4 forced fumbles and 3 intercepts, then the Tide could have another easy victory, and then prepare for their Week 7 game with the Texas A & M. The Crimson Tide in their ultimate 20 home games are 8 and 2 straight up, but against the spread they are just 4 and 6.
The prediction for this game is that the Crimson Tide is expected to display their scoring talent again in this game, and will beat the Razorbacks of Arkansas 47-21 for their 5 victory.