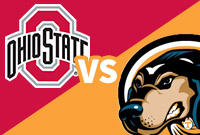 The Tennessee Volunteers are the favorites of NCAA betting fans as they prepare to host the Ohio Bobcats at Neyland Stadium in Knoxville on Saturday, September 17th. These are the odds for people who enjoy
betting on NCAA football
:
Ohio +27½ (-110) 57½ (-110) +2800
Tennessee U -27½ (-110) 57½ (-110) -6200
The Vols dropped a few spots on the AP Poll but gained a bit of ground back when they defeated the Virginia Tech Hokies 45-24 on September 10th to improve their record to 2-0. The latest chapter of the Battler at Bristol saw the Volunteers come back from a 14-0 deficit. QB Joshua Dobbs connected only 10 of 19 passes for 91 yards, but three of those completions were TD passes, including a deep ball to wide receiver Josh Malone to tie the proceedings at 14 and turn the tide in favor of the Vols. In addition to that, Dobbs rushed for 106 yards for a further two touchdowns. On defense, senior LB Jalen Reeves-Maybin had 13 total tackles and one and a half tackles, while defensive tackle Kendal Vickers had four total tackles and a sack, and forced one of the Hokies' five fumbles.
The Bobcats bounced back from a heartbreaking 3OT 54-56 season opening loss to their Texas State namesakes with a 37-21 win over the Kansas Jayhawks on September 10th. Ohio caught Kansas like a deer in the headlights with an early 25-0 lead. The Bobcats rushed for 329 yards even as injured star running back A.J. watched the game from the sidelines. All told – or rather half told – Ohio had 17 more first downs, dominated the time of possession, and accumulated 271 rushing yards in the first half alone. "You know, there were a lot of things that went wrong in the first half," Kansas
head coach David Beaty
said. Which means a lot of things went right for the Bobcats. In fact, no other Bobcat had had a better start since maybe Bobcat Goldthwait in Police Academy 2: Their First Assignment.
Nevertheless, Ohio will enter this Saturday as the NCAA betting underdog. And truly, the Vols out-advantage the Bobcats in offense, defense, and special teams. Dobbs partnership with running back Jalen Hurd is explosive, and while the defense is a work in progress, there was much improvement – and much rejoicing – against the Hokies. And on the special teams, kicker Aaron Medley is 3 of 4 on field goals and 8 of 8 on extra points. The Vols also carry the momentum that comes from winning the college game with the largest recorded attendance in history. As for the Bobcats, with head coach Frank Solich at the helm, NCAA betting fans can expect them to get down and dirty, hoping to emulate the Appalachian State Mountaineers O-line, which pushed the Vols around in their season opener. Also, Solich has a preference for the running game, even though QB Windham can throw when push comes to shove. On defense, the Ohio secondary is lacking, but LB Blair 'Witch' Brown will try to cut off Dobbs's legs – figuratively, of course.