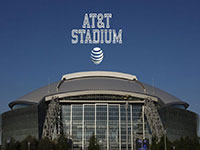 The new NCAA Football National Trophy game of the 2014 NCAA Playoffs will take place at the AT&T Stadium in Arlington, Texas. The game will compile some 60,000 out of state fans and it is expected that over $300 million in spending will take place as the area in Texas host this game under its new format.
The comptroller for the state of Texas gave all a peek at the impact the Championship game for the January 12 event as the trust fund revenue they have earmarked for the game is some $10.7 million as the fund is set up to assist in paying taxes as it depends on estimated sales taxes on sales, car rental, hotel and alcohol taxes to be generated. That amount would be the eighth largest in the history of the state's unique funding system that allows an advantage when the state competes for national events.
There experience has allowed them to see the impact and reap the benefits from hosting the Super Bowl as well as the Final Four for the NCAA March Madness tournament.
A report that was prepared last April for the Organizing Committee for Stadium events the game attendance was set at 91,781 tickets sold with some 12,500 credentialed visitors. Also this was based on some 61,160 non residents attending the event. They also reported than some 18,000 persons would be visiting the area for game-related activities but would not be in attendance at the game. This report had some $308.6 million projected for spending in total and some $16.1 million in revenues from taxes that would include $2.2 million derived from Dallas and Arlington. One of the variable used to project this project was the estimated ticket prices of from $200 to $800 with a 10% chance a Texas team would make the final playoff game which would reduce the out of state attendance.
The NCAA first division changed to a four-team system for the playoffs for the 2014 and 2014 regular season in which the NCAA will also have a bidding selection for the championship game similar to that which is used for the Final Four and the SuperBowl.
In order to secure the bidding, local organizers also promised to hold a four day series of event that would end with the Monday night Championship game. They will more than likely hold a fan festive at the Convention Center in Dallas that will include a three day concert series with pregame tailgate events and VI events projected as well.
They claim that their combined support with the AT&T stadium is what placed us above the competition, and will allow them to operate this National Championship and the events leading up to this game and guarantee that they will be setting the standards for future national championship games.