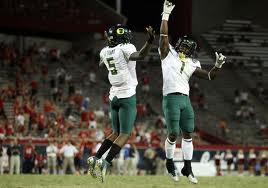 This Saturday, the 29th of November, Week 14 of NCAA FB regular season features 2 of the top 4 CFP ranked teams playing. The first game is at 3:30 PM ET, with the No. 4 Mississippi State Bulldogs now 10-1, playing at their state-rival No. 19 Ole Miss Rebels now 8-3. Both are from the SEC conference. This game will be played at the Vaught-Hemingway Stadium in Oxford, Mississippi and on CBS TV.
The offensive leaders for the Bulldogs to date are QBs Prescott & Williams, who have combined for 2,869 yards passing with 26 touchdowns with 10 interceptions. RB Robinson & QB Prescott have combined 336 carries 1,975 yards and 23 touchdowns, while Receivers Wilson & Robinson combined for 56 receptions for 819 yards with Wilson scoring 6 touchdowns and Robinson scoring 1 TD. Mississippi State has been averaging 39.0 points per game while allowing their opponents some 18.4 points per game. They are 7-0 at home, and 3-1 in road games, and last week the Bulldogs beat Vanderbilt 51-0.
Leading offensively for the Rebels this season to date, are QB Wallace, who passed for 2,789 yards, with 22 touchdowns and had 10 interceptions. RBs Walton & Wilkins combined for 130 carries with Walton scoring 4 touchdowns and Wilkins scored 1 TD. Receivers Sanders and Treadwell combined for 85 receptions for 1,279 yards, with Sanders scoring 6 touchdowns and Treadwell scoring 5 touchdowns. Ole Miss has averaged scoring 30.4 points per game, while allowing opponents some 13.5 points per game. They are 5-1 at home and 2-2 on the road, and last week they lost to the Arkansas Razorbacks 30-0.
This is the final regular season game for both teams, and this game, the Egg Bowl and the game carries National Championship implications for the Bulldogs, while the Rebels with a win can salvage their season at 9-4.
---
The 2nd game is the No. 2 Oregon Ducks now 10-1, playing at the state rival Oregon State Beavers 5-6, both Pac 12 teams playing at the Reser Stadium, in Corvallis, Oregon at 8 PM ET, and on ABC/ESPN TV.
This game may prove more interesting than most may think, as the Beavers who are hosting the Ducks in this game, have the best home record as a team that is not ranked, playing against top ten opponents since back in 2000. Oregon State has been averaging 26.3 points per game, while allowing opponents some 30.2 points per game, winning 3-3 at home and 2-3 on the road.
The Beavers offensive leaders to date, for 2014 are QB Mannion, who has thrown for 3,002 yards for 14 touchdowns with 8 interceptions, and with a completion rate of 63.5 percent. RBs Ward & Woods who combined for 232 yards, with Ward scoring 10 touchdowns and Woods scoring 4 touchdowns. Receivers Boldin & Villamin combined for 102 receptions for 1,357 yards with Bolden scoring 2 touchdowns and Villamin scoring 6 touchdowns.
The Ducks stayed at the No.3 spot in the AP top 25, and after their 44-0 win over Colorado they are No. 2 in CFP ranking, now they have to beat the Beavers and then play for the Pac 12 Title.
Their offensive leaders to date this season are QB Mariota, who has passed for 3,103 yards with 32 touchdowns and having 2 interceptions. RB Freeman & QB Mariota combined for 284 carries for 1,647 yards, with Freeman scoring 16 touchdowns and Mariota scoring 9 touchdowns. Receivers Marshall & Allen combined for 84 receptions for 1,273 yards, with Marshall scoring 4 touchdowns and Allen scoring 6 touchdowns. The Ducks have been averaging 45.8 points per game, while allowing opponents some 23.6 points per game, and they are 6-1 at home and 4-0 when playing on the road.
Football fans this is the last regular season game for both teams, so if you bet on college football at SBG Global, you will have to wait until the regular season games end, and watch for the upcoming lines on the various conference playoffs.