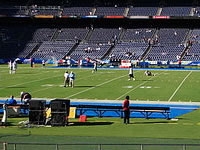 This Saturday the 8th of Oct., Week 11 of the NCAA football season starts. In this article, we look at two of the top three teams with a brief preview of their Saturday matchups!
The No. 1 Mississippi State Bulldogs now 8-0 (1st in SEC West) play at home against the UT Martin Skyhawks 5-5 (4th OVC) with the game played at the Davis Wade Stadium in Starkville, Mississippi at 4 PM ET and on ESPN & SEC TV, with cool temperatures.
The Bulldogs play has been highlighted by their QB Prescott, who certainly should be considered a Heisman candidate and the team's dominant victories over their 10 opponents this 2014 season. The offensive leaders for the Bulldogs are QB Prescott who has completed 132 of 216 passes for 2,025 yards with 16 touchdowns. RB Robinson with 140 carries for 951 yards and 11 touchdowns and Receiver Wilson with 22 receptions for 367 yards and 6 touchdowns. The Bulldog defense is the group that has been fantastic; as they are 1st in SEC for Red Zone defense only allowing 57.1% of the points, and only 9 touchdowns in some 28 occasions.
There was no offensive statistical data available at this time for the Tennessee-Martin Skyhawks, and they are 1-17 against their FBS game opponents, which included a defeat in their opening game at Kentucky 5-14 and back in 2011 lost to Georgia 55-17. That was the only meetings with SEC opponents, until this game with the Bulldogs. Their QB Dylan, previously with the Bulldogs is a nephew of Brett Favre and has played in six games this season. The Skyhawks have won four of their recent games with RB Toure scoring 6 touchdowns and rushing for 524 yards. They had a 62-38 win over Murray State and RB Toure had 3 touchdowns and rushed for 234 yards on 29 carries last week. Their Coach Sampson played for the Mississippi State Bulldogs in 1990 through 1992.
So Bulldog fans who bet on college football at a sportbook it does not appear that the Bulldogs will have a lot of trouble with the Skyhawks this Saturday. Next week is a bye week for UT Martin, and then they finish the season at E. Illinois on the 22nd of Oct. 2014. Meanwhile, the Mississippi State team now 8-0 next Sat. the 15 of Nov. 2014 play at the now No.5 Alabama Crimson Tide 7-1 (2nd SEC West) with the game at the Bryant-Denny Stadium.
---
The No. 3 Auburn Tigers now 7-1 (2nd SEC West) play at home against the Texas A&M Aggies now 6-3 (6th SEC West) at 3:30 this 8th of Nov at the Jordan-Hare Stadium in Auburn, Alabama and on CBS TV. The early favorites in the game is the Auburn Tigers at -21 ½ with the Ov/Un 66.
The Auburn Tigers in this game hope to continue their nation's longest home game win streak at 15. In the Tigers last 22 games, ten games have decided by just one possession. Of those ten they only won they lost was to FSU in the 2013 BCS Championship game. Also, in 2013 they had a back and forth game with then No.7 Texas A&M, in which the Tigers rallied from a 4th quarter deficit to win the game 45-41.
The offensive leaders for Auburn are QB Marshall, who has completed 99 of 166 passes for 1.357 yards with 13 touchdowns. RB Artis-Payne has 178 carries for 969 yards and 9 touchdowns. Receiver Williams now has 37 receptions for 598 yards and 8 touchdowns.
The Aggies are tied for 6th in the nation defensively with 30 sacks, and DE Garrett has 11 of those sacks. But they will have a more difficult time sack Auburn QB Marshall as Auburn has only allowed six sacks this season, which happens to be fewest in the FBS this 2014. The Aggies have given their opponents, an average of 255.8 yards per game rushing, and 14 touchdowns on their 4 past conference games.
The offensive leaders for the Aggies are QB Hill, who has 214 completions of 321 passes for 2,649 yards and 23 touchdowns. RB Carson with 72 carries for 326 yards and 5 touchdowns while Receiver Reynolds has 34 receptions for 533 yards and 6 touchdowns.
The Auburn Tigers are still in the College Football playoffs ranked third, and the Tigers consider their playoff has already started thanks to their win last week over Ole Miss 35-31.
For the Auburn Tiger Fans and Texas A&M Aggies fans who bet on college football at an online sportsbook, be advised that Aggies now 6-3 play next at home against the Missouri Tigers now 7-2 (1st SEC East) at Kyle Field on the 15th of Nov. at 7:30 PM ET. The Auburn Tigers now 7-1 play at the now No.20 Georgia Bulldogs 6-2 (2nd SEC East) on the 15th of Nov.