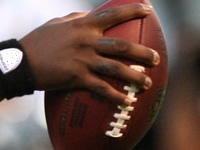 Moving towards the start of the NCAA Football 2014 season, there is only one way the Spartans of Michigan State can top their 2013 performance: winning the National Championship in 2014. That goal can be intimidating, especially when one realizes that this is only August. Therefore, Coach Dantonio prefers his team focus more on their process than the outcome of games that are still months into the future.
In fact, Michigan State is a bit of a longshot to win the 2014-2015 title. SBG Sportsbook has their odds at +3050 right now. While respectable, there are many teams with better odds to win, including Alabama (+710), Florida State (+525), and Oregon (+1025).
Last season's success with the Big Ten Title and then a Rose Bowl win was a tribute to the improvement made over the seven season with Coach Dantonio in charge. That excitement in 2013 will be hard to match this season, especially their return to the Rose Bowl, the first time since 1988. But then again, this 2014 Spartan team is loaded with returning talent and that's enough reason for the team and coach to be excited about this season.
The coach says they need to dream big, because they have already won a Rose Bowl and the Big Ten Title, but at this time the team needs to stay focused on one practice and one game at a time and let the future happen.
That focus the Spartans understand very well. At the start of 2013, the Spartans in no way looked like a powerhouse of the Big Ten. The offensive struggled to score against some weaker teams, but as November came around, their QB Cook got adjusted to the game. After that, the offense was able to ride easily and the defense was outstanding as they finished the Big Ten season undefeated.
Their QB is back, but on defense they lost some key players in linebackers Allen and Bullough and also defensive backs Lewis and Dennard. Thus, the Spartans team will be tested starting with their opening game against Jacksonville State. Then they go on to face the dynamic, fast-paced offense of the Oregon Ducks.
Even as those opening games are almost one month away, they have not really talked much about the two opening games, preferring to focus on getting better at the fundamentals. Once comfortable with that, they will start concentrating on their opening game with Jacksonville State.
After they get past the opener, they will begin preparing for the Ducks as this game will underscore the challenges the Spartans face just over the horizon. It will also give them a chance to prove they are one of the elites of the NCAA football, whether they win or lose against the Ducks. Then after that game the team will have a better understanding of where they need to improve to compare with the success they experienced in 2013, or surpass it with a national title in the inaugural NCAA playoffs.