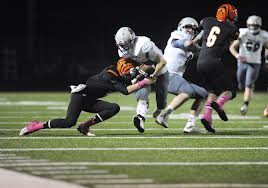 With the 2014 NCAA football bowl bames underway, there was one Bowl game on Monday, the 22nd of December, 2014. This was the Miami Beach Bowl ever, and it was played at the MLB Marlins Park in Miami, Florida at 2 PM ET and seen on ESPN TV. The BYU Cougars faced the Memphis Tigers.
The Memphis Tigers QB Lynch was responsible for 7 touchdowns, as the redshirt sophomore passed for touchdowns and ran for another 3 touchdowns, as the Tigers beat the BYU Cougars 55-48 in the 2nd OT. The scoring in the game was incredible as the BYU Cougars scored 14 points in the first quarter and 14 points in the 2nd quarter, while the Memphis Tigers scored 17 points in the 1st quarter and 7 points in the 2nd quarter, thus the game went to half-time BYU 28 Memphis 24. In the 3rd quarter the Cougars were shutout, while the Tigers scored 14 points. In the final 4th quarter the Cougars scored 17 points, while the Tigers scored 7 and the game ended BYU 45 Memphis 45, thus the game went to OT.
In Overtime the Cougars managed to score a 3 point FG, while the Tigers scored a FG for 3 points and the 1st OT ended at 48-48. In the 2nd OT with time running out the Memphis QB Lynch completed an 11 yard pass to receiver Proctor for the TD and 7 points to seal the win for Memphis 55, BYU 48.
Statistically the game was very close and Memphis had 24-1st downs for 480 total yards, while BYU had 22-1st downs for 425 yards. The Tigers had 174 rushing and 306 passing yards with 5 turnovers, while the Cougars had 77 rushing and 348 passing yards. BYU possessed the Ball for 29:13 minutes of the game, while Memphis controlled the ball for some 30:47 minutes of the sixty (60) minute game.
After the final play of the game in the 2nd OT and Memphis winning over BYU 55-48, a brawl broke out at midfield near the line of scrimmage, were BYU was intercepted, and the game ended as players from the two teams with many of them grabbing each other and throwing punches.
Football fans who bet on college football at a sportsbook on the 23rd NIU played Marshall in the Boca Raton Bowl in Florida, and in the Poinsettia Bowl also on Tuesday; the 23rd San Diego State played Navy at San Diego, California. There are two Bowl games on the 24th of Dec., the Bahamas Bowl with Western Kentucky playing Central Michigan at Nassau. Also on the 24th you can watch the Hawaii Bowl with Rice playing Fresno State at Honolulu, Hawaii, then nothing for Bowl games on Christmas Day.