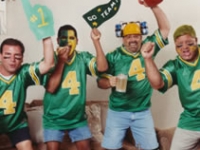 This past Thursday, with the start of Week 13 in college football, we saw the now 8-2 KSU Wildcats (1st Big 12) outscore the now 6-5 West Virginia Mountaineers (6th Big 12). Wildcats QB Waters passed for over 400 yards as KSU won 26-20 over WVU, in a game played at the Milan Puskar Stadium, in Morgantown, West Virginia and seen on Fox Sports 1.
The game basically ended with less than a minute left in the game, as WVU tried an onside kick after they had reduced the lead for KSU 26-20, but KSU recovered the kick and that was the end of the game.
Leading offensively for the Mountaineers was QB Howard, who was 15 of 23 for 198 yards with 2 touchdowns and backup QB Trickett who was 12 of 25 for 112 yards with 2 interceptions. RB's Shell & Smith combined for 26 carries for 95 yards, while Receivers Alford & Shorts combined for 8 receptions for 164 yards with Alford scoring 1 TD. West Virginia had 27 first downs for 433 yards, with 310 passing and 123 rushing with 4 turnovers, and possessed the ball for 28:27 minutes of the game.
Offensive leaders for the Wildcats were QB Waters. Who completed 22 of 34 passes for 400 yards, with 1 TD and 1 interception, while RB Jones & QB Waters combined for 19 carries for 17 yards, and Receivers Lockett & Sexton combined for 15 receptions for 262 yards. KSU had 18 first downs for 401 yards total with 400 yards passing and 1 yard rushing, with 2 turnovers. The Wildcats possessed the ball for 31.33 minutes of the 60 minute game.
In the first quarter of the game KSU scored 7 points, as WVU was shutout in the 1st, in the 2nd KSU scored 10 points, while WVU scored 3 point, thus half-time score was KSU 17 WVU 3. In the 3rd quarter KSU score 6 point, while WVU scored 7 points. In the final 4th quarter KSU only score 3 points, while WVU score 10 points, but not enough for a victory, as KSU won the game 26 to WVU's 20!
The West Virginia Mountaineers nave no lost 3 consecutive games, after having been victorious in 4 straight games. They had 3 costly turnovers inside the KSU 30, and also thy missed a 30 yard field goal attempt. Their QB Trickett left the game after throwing 2 interceptions and suffered a concussion. Replaced by QB Howard who passed for 2 touchdowns and he was 15 of 23 for 198 yards in the game. West Virginia was saddled with costly errors in the game resulting in their loss.
Thus, sports fans who bet on college football at a sportbook, it's to get ready for week 14, as the Mountaineers now 6-5 play their last regular game of the season at Iowa State Cyclones now 2-7 (10th Big 12) at 1 PM ET on Saturday the 29th of November. The Wildcats now 8-2 will play at home against the Kansas Jayhawks now 3-8 (9th Big 12) at the Bill Snyder Stadium at 4 PM ET.