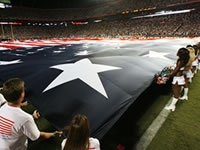 This past Friday the 2nd of Jan. 2014 there were some four bowl games. In this article we will be presenting a brief recap of the Lockheed Martin Armed Forces Bowl that was played at the Amon G. Carter Stadium in Fort Worth, Texas, with game time at 12 PM ET and seen on ESPN Watch. This game brought together the 8-5 Houston Cougars (American Conference) against the 6-7 Pittsburgh Panthers (ACC Coastal) with Houston rallying late in an unbelievable manner, to win the matchup 35-34.
The scoring in the game was somewhat abnormal, as in the 1st quarter neither the Cougars nor the Panthers scored any points. In the 2nd the Panthers scored 17 points, while the Cougars scored 6 points, thus the game went to half-time Houston 6 Pittsburgh 17. In the 3rd quarter the Cougars were scoreless, while the Panthers scored 7 points, thus the Panthers led the game 24-6 at the end of the 3rd quarter. It turned out that that lead by Pittsburgh was no enough to win the game, as they score 10 points in the 4th quarter, while the Cougars rallied and scored 29 points to win the game. The Panther rally that was unbelievable was that in the 4th quarter they kicked offside two times, and recovered the ball on both fumbles, and scored touchdowns off those fumbles. The Cougars comeback in this game of 25 points is tied for the 2nd biggest comeback in college football bowl history.
The statistics of the game were very close as was the final score, as the Panthers had 28-1st downs for 449 total yards, with 222 passing and 227 rushing yards with no turnovers, and ball possession for 33:23 minutes. The Cougars had 23-1st downs, with 274 passing and 212 rushing, also with no turnovers, and ball possession for 25:39 minutes of the game.
Leading the Cougars offense was QB Ward, Jr., who completed 15 or his 24 passes for 274 yards with 3 touchdowns and no interceptions. RB Farrow & QB Ward combined for 36 carries for 195 yards, with Farrow scoring 2 touchdowns. Receivers Greenberry & Ambles combined for 7 receptions 153 yards, while Greenberry scored 2 touchdowns.
The offensive leaders for the Panthers were QB Voytik, who completed 18 of his 35 passes for 222 yards, with 1 TD and 1 interception. RB' Connor & Ibrahim combined for 26 carries for 132 yards, with Connor scoring 2 touchdowns. Receivers Boyd & Weatherspoon combined for 12 receptions for 158 yards with no touchdowns.
For those fans that bet on college bowl games at an offshore sportsbook, it may be interesting looking back at the fact that in this game, the Cougars with a 25 point deficit, had a 0.7 percent chance of winning the game, which made this Bowl win for the Cougars, the 5th most unlikely win in the history of college football in some 10 years.