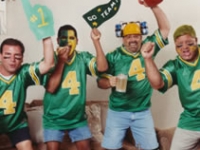 This Saturday, the 15th of Nov. 2014, in Week 12 NCAA football, we have the No.3 Florida State Seminoles 9-0 (1st ACC Atlantic) playing at the Miami Hurricanes 6-3 (3rd ACC Coastal) in a state rivalry game at the Sun Life Stadium in Miami, Florida. Gametime is 8 PM ET and it will be televised on ABC/ESPN TV. The Seminoles are early favorites at -2 with the O/U -125 and ML -125 with the comeback +105 on the Hurricanes.
This should be an amazing game as the Hurricanes have freshman QB Kaaya who currently is the ACC Coastal Conference leader in TD passes, yards per pass, and completion as we leading in the quarterback ratings.
On the other hand, the Seminoles bring last year's Heisman Trophy QB Winston, who has not lost a college game in his career, and will lead the 3rd ranked Seminoles to win their 26th consecutive win.
So if this is a quarterback's game, let's look at some facts and statistics. FSU QB Winston has the edge on arm strength as he's bigger and stronger, while Hurricanes Kaaya also has an elite arm, that will get stronger. FSU's Winston has thrown for 17 touchdowns, while averaging 13 yards per completion, and 8.6 yards each attempt. Miami's Kaaya has thrown for 20 touchdowns, averaging 14.5 yards per completion, and 9 yards per attempt.
The offensive leaders for the Hurricanes are QB Kaaya, who has completed 144 of 233 passes for 2,087 yards and 20 touchdowns while being intercepted 9 times, with a completion rate of 61.8%. RBs Johnson & Yearby combined have 213 carries for 1,634 yards with Johnson scoring 9 touchdowns and Yearby scoring 1 TD. Receivers Dorsett & Walford have combined for 48 receptions for 967 yards with Dorsett scoring 6 touchdowns and Walford scoring 6 touchdowns. Miami is averaging 33.0 points per game, while allowing opponents to score 21.9 points per game.
Offensive leaders for the Seminoles are QB Winston who has completed 196 of 294 passes for 2,540 yards and 17 touchdowns, while being intercepted some 11 times, with a completion rate of 66.7. Backup QB Maguire has passed for 339 yards with 1 TD and 2 interceptions. RB's Williams & Cook have combined for 198 carries for 936 yards with Williams scoring 9 touchdowns and Cook scoring 5 touchdowns. Receivers Greene & Wilson have combined for 104 receptions for 1,391 yards, with Greene scoring 5 touchdowns, and Wilson scoring 4 touchdowns. The Seminole in 2014 are averaging 37.9 points per game, and allowing opponents to score 22.4 points per game.
Taking a look at the Seminoles resume; they are the reigning national NCAA Football Champions, having won 25 straight games, with 4 consecutive wins over the Hurricanes, presently ranked No. in college football and No. 3 in College Football Playoff rankings and with reigning 2013 Heisman Trophy winner QB Winston.
So Florida football fans who bet on college football at online sportsbooks, get ready for the action. Both needs are out to win this one, with FSU having more to lose if they are not victorious. Next week, the Seminoles now 9-0 play the Boston College Eagles 6-4 (4th ACC Atlantic) on Nov. 22nd in Tallahassee, Florida. The Hurricanes now 6-3 play at the Virginia Cavaliers 4-6 (6th ACC Coastal) at their Scott Stadium.