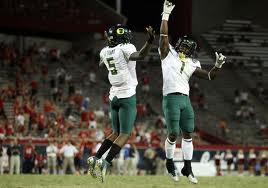 This Saturday, the 22nd of November, the 2-8 Colorado Buffaloes (6th Pac 12 South) will travel to Eugene, Oregon to face the No. 2 Oregon Ducks 9-1 (1st in Pac 12 North) with game time at 4:30 PM ET at the Autzen Stadium, and will be on the Pac 12 Network TV.
This Oregon Ducks team with their QB Mariota, a Heisman hopeful and team members are trying to not pay too much attention, to all the hype surrounding the CFP, and their chances at both. Thus, they will try to enjoy their game with the Buffaloes, a team that has lost 12 straight 12 Pac 12 road games. While the Ducks have already clinched a slot for the Pac 12 Title game on the 5th of December while presently ranked No. 2 in the College Football Playoffs.
The offensive leaders for the Ducks are QB Mariota, who has completed 186 of his 277 passes for 2,780 yards and 29 touchdowns with 2 interceptions, with a 67.1 completion percentage. Then RB Freeman & QB Mariota, have combined for 219 carries for 1,469 yards, with Freeman scoring 14 touchdowns, and Mariota scoring 8 touchdowns. Receivers Marshall & Allen have combined for 77 receptions for 1,181 yards, with Marshall scoring 4 touchdowns and Allen 6 touchdowns. The Ducks have average scoring 46.0 points per game, while allowing opponents to score 25 points per game.
Leading the offensive for the Buffaloes are QB Liufau, who completed 298 of his 453 passes for 2,842 yards with 26 touchdowns and 14 interceptions with a 65.8 completion percentage. RB's Adkins II & Lindsay combined for 146 carries for 736 yards with Adkins II scoring 3 touchdowns, while Receivers Spruce & Fields combined for 134 receptions for 1,501 yards with Spruce scoring 11 touchdowns, and Fields scoring 4 touchdowns. Colorado has averaged 29.8 points per game, while allowing opponents some 38.6 points per game, a major reason for their loss record.
This is a game where Colorado must slow down the Oregon offensive attack that is 3rd in the nation averaging 46 points each game, while being 5th in overall offense with 531.2 yards of offense each game. Colorado has some good fibs', in that they have rushed for 172.9 yards per game, which is 3rd best in the Pac 12 conference. Also, they have a weapon in junior receiver Spruce who has 11 TD receptions, that ranks 4th in the nation, for some 1,091 yards which ranks 7th in NCAA football.
So Pac 12 fans who bet on college football at SBG Global or other wagering sites, be advised that this is the next to last game for both teams, as next week both teams play their last regular season games, as Colorado now 2-8 will play the now No.17 Utah Utes now 7-3 (5th Pac 12 South) at Folsom Field. The Oregon Ducks now 9-1 will take on their arch Oregon rival the Oregon State Beavers now 5-5 (4th Pac 12 North) at Reser Stadium.