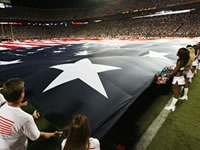 It's a meeting of the wings as the Louisville Cardinals sour into Hattiesburg Saturday night to collide with the Southern Mississippi Golden Eagles. The first kick in M.M. Roberts Stadium is scheduled for 8:00 PM ET with national viewing available on the CBS Sports Network.
Soaring into Mississippi may be too strong a description however, even though Louisville (4-0) is undefeated and ranked number 19 in the nation. In their last two contests versus North Carolina and Florida International, the Cardinals were fortunate to escape with W's and won the 2 games by a total of just 12 points. In the game against North Carolina 2 weeks ago, they were outscored 27-3 in the second half, but hung on to win 39-34. On the bright side, they opened scoring on their first 6 possessions. Start your College Football Wagering on Arkansas vs.Texas A&M Game.
Southern Mississippi (0-3) has been flying as if its wings have been clipped. They are close to last in the FBS in scoring average (17 points) and offensive yardage (283), despite having been one of the most productive offenses in past years. The defense is allowing 38 points and 473 yards to opponents. Last week they lost to Western Kentucky 42-17, after racking up only 101 passing yards. At one point, they were down 42-3, but slightly narrowed the gap by the end of the game. The loss of QB Davis and five other starters from last year's offense has given them nothing but trouble, and the new head coach situation is not helping. They now rank 116th in passing, 115th in total offense, and 113th in scoring offense. Check the College Football Odds for Louisville vs. Southern Mississippi Game.
The Cardinals are 9-2 ATS overall lately, and 13-2 ATS on the road. They have covered their last 8 road games by 108 ½ points spreadwise. They Eagles are 0-6 ATS against Louisville, and are 1-6 ATS as home underdogs against non-conference opponents.
Louisville is a 10.5 point road favorite on a $110/$100 moneyline. The same moneyline holds for the O/U of 49.5 total points.
Open an Account for the best Sportsbook Parlay and Vegas Teaser Payouts in the Industry.
Check the Game Podcast: