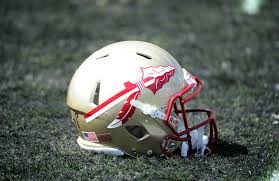 For the fans of the Online Sportsbooks who thrive at the Offshore Betting sites they will have the opportunity to see the Idaho VANDALS ( 1-9, 0-0 6th FBS Independents) who travel to Tallahassee, Florida to take on the #2 Ranked Florida State SEMINOLES (10-0, 8-0 1st ACC Atlantic with the game being played at the Bobby Bowden Field at Doak Campbell Stadium with kick-off scheduled for Saturday, November 23, 2013 at 3:30pm ET with weather forecast in cloudiness and Mild winds and temperatures.
The Bet on College football fanatics are not surprised were stunned last game on Saturday, November 2nd as the Old Dominion Monarch beat the Idaho Vandals in a shootout with the Monarchs QB Heinicke throwing for some 533 total yards and four TD's and he also rushed for a TD himself. At half time the score was tied at 31-31. At the start of the 2nd half Old Dominion scored on a 1 yard plunge after a 75 yard offensive drive, then they forced a punt by Idaho and the Monarchs again went on a 80 yard , 10 play drive and a score making it now 45-31.
Then Idaho scored and cut the lead to 7 at 45-38 but was unable to score any more in the game. The Idaho QB Davis threw for two TD's for 308 yards and also was intercepted twice. The Monarchs scored at least 14 points in all four quarters of this game. If Idaho is going to be able to compete in their upcoming game with FSU they must beef up their pass defense and reduce their game turnovers and improve their 3rd down efficiency!
Meanwhile the opening lines at the Online sportsbooks are favoring FSU at -56 in this game primarily as the statistics for Bet on College football have the Seminoles outscoring their opponents 527 to 111 points in the 10 games thus far indicating that every game they averaged 52.7 points per game to their opponents 11.1 which quite a feat in itself and must be a record of some type somewhere. The Seminole in their last game routed Syracuse 59-3 which amazingly was the same score by which they beat their opponent Wake Forest the previous week. FSU QB Winston a Heisman Candidate threw for two TD's against the Syracuse Orange on 19 of 21 pass attempts for some 277 yards. For FSU to remain in the BCS Championship picture they must win this game with Idaho, beat Florida the next week and then in the third week win the ACC Championship game. Good Luck FSU and Vandals.