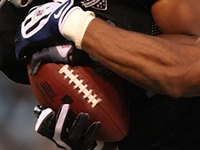 An "A-Peelin'" game comes to Boise, Idaho on December 17th when the Famous Idaho Potato Bowl kicks off with the Ohio Bobcats taking on the Utah State Aggies. The Ohio Bobcats come into play with a 9-4 record and a 6-2 record that is 1st in the MAC. The Bobcats average 31 points per game on offense and 22.1 points per game on defense. Ohio has played great in the second half of the season winning five of their last six games. The Bobcats are led by former Nebraska coach and Tom Osborne protégé Frank Solich who's in his Seventh year as Ohio head coach. The Aggies come into Boise with a 7-5 record and a 5-2 record that is 2nd in the WAC.
The Aggies average 34.5 points per game on offense and 28.3 points per game on defense that is typical of the shootout nature of the WAC. Utah State has also been on a streak as of late winning their last five games. The Aggies are led by Second year coach Gary Andersen. College Football Odds for the Idaho Potato Bowl.
Being led by an option-loving head coach, the Bobcats are headed under center by the dangerous sophomore QB Tyler Tettleton (3,086 passing yards – 627 rushing yards – 63.6 completion pct – 26 passing td's / 10 int – 147.6 rating – 9 rushing td's) who's as much of a threat to run as to pass. Senior RB Donte Harden (172 carries – 939 yards – 2 td's) heads up the running game with seniors LaVon Brazill (64 catches – 1,042 yards – 10 td's) and Riley Dunlop (40 catches – 551 yards – 6 td's) being favorite targets of Tettleton's down the field. College Football betting action on the Idaho Potato Bowl.
The Aggies are headed by freshman QB Chuckie Keeton (1,200 yards – 60.9 completion pct – 11 td's / 2 int – 137.4 rating) with junior QB Adam Kennedy (909 yards – 70.7 completion pct – 10 td's / 4 int – 180.8 rating) being a capable backup. The dual attack of junior Robert Turbin (229 carries – 1,416 yards – 19 td's) and senior Michael Smith (102 carries – 713 yards – 7 td's) ensure that Utah State's running game is in decent hands. Senior WR Matt Austin (34 catches – 465 yards – 6 td's) and junior WR Stanley Morrison (25 catches – 416 yards – 3 td's) head up the Aggies' wide outs.
Open an account for the best Sportsbook Parlay and Vegas Teaser Payouts in the Industry