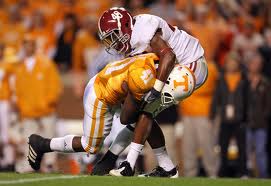 This Saturday NCAA football fans who wager at the Online Sportsbook and Bet on College games will be given the opportunity to see an exciting game between the # 1 Alabama Crimson Tide (7-0) and the visiting Tennessee Volunteers 4-3) as both teams defend their ranks in this SEC conference game. The general time for kickoff is at 3:30 Eastern Time and the game is played in Tuscaloosa, Alabama at the Bryant-Denny Stadium. This is a game that SBG Global has the opening line with Alabama at -28.
Last week was both of these SEC teams won, with Bama crushing Arkansas 52-0 as the team amassed some 352 yards on the ground with a total of 532 yards of offense. Thus the Tide continues to be a heavy favorite, despite the fact that Tennessee had an impressive upset victory over South Carolina 23-21 and the Gamecocks had their four game winning streak broken and their QB Shaw left the game with a sprained knee. Thus the Volunteers team showed a great deal of overall team improvement in the win along with the aide of a time expiring field goal by Mike Palardy. That play was a result of the great catch by a freshman wide receiver on the 26 yard line of South Carolina followed by four running plays that took the ball to 2 yard line of the Gamecocks. This was the 1st time since back in 2009 that Tennessee has beaten a ranked opponent, and that just happened to also be the Gamecocks also.
For the fans of the Online sportsbook they will be interested in knowing that the Crimson Tide in their last 35 games has only given up on the average 7.3 points per game which is quite and amazing stat in itself. Surprisingly the Tide only ranks 6th in the SEC conference offensive stats with a 406 yards gained per game.
The Tennessee fans have to be excited that the team just completed their largest win of the season as they beat the Gamecocks and are presently playing with a confidence and have a winning attitude. Meanwhile Alabama with its dominating play are not as good as last year's team and on a week to week basis in a very strong SEC conference the top teams have a very difficult time maintaining their composure and strong performance, on a continuing week by week play. But fans be assured the Volunteers are coming to Tuscaloosa to win this matchup!