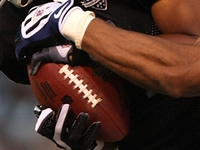 It was a long journey for both teams and you may want to stay in Friday night unless you reside in the Pacific time zone, if you plan on watching the Notre Dame Fighting Irish do battle with Navy on Saturday morning. The game is scheduled to begin before ESPN Gameday at 9:00am ET and will be televised on CBS.
The setting is Aviva Stadium in Dublin, Ireland; and will someone please explain to me how Navy gets the home team designation over the Irish in Ireland? Anyway, that is the case, as Notre Dame comes off a disappointing 8-5 2011 campaign to meet the Midshipmen who were 5-7 last year.
While the location may be strange to the two teams, meeting each other is nothing new, as this marks the 85th straight year they have played each other. Notre Dame will have a new quarterback in sophmore Everett Golson, but be without suspended QB Tommy Rees and RB Cierre Wood. Check the NCAA Football Odds for Notre Dame vs. Navy Game.
ND crushed Navy last October scoring 7 touchdowns in their 56-14 victory. This was revenge for the Irish, who had dropped games to the Midshipmen in 2007, 2009, and 2010. That 2007 victory snapped an 0-43 SU series record between the two and came in a dramatic 46-44 triple overtime win.
The Irish started last season at 35 ppg in 6 of 10 games, but averaged only 15 ppg in its last three games of the year. They are 0-3 ATS as of late, 3-9 ATS in a road opener (although this game in Dublin could be considered more "home" than "away" for the Irish), and 1-5 ATS in lined openers. Start your NCAA Football Betting action on Notre Dame vs. Navy Game.
The Midshipmen are returning only 5 offensive starters from last year when they put up 35 ppg in their last 16 regular season games. They are 3-6 ATS recently, but a more impressive 13-7 ATS against Notre Dame. They are 10-3 ATS as the underdog, and 6-0 ATS in the first of two games on the road.
Notre Dame is favored "on the road" by 15 points at a -$110. It will take another $110 wager to play the under / over of 55 points.
Open an Account for the best Sportsbook Parlay and Vegas Teaser Payouts in the Industry.
Check the Game Podcast: