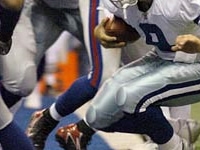 December 17th is circled on the calendar for the Gildan New Mexico Bowl in Albuquerque, New Mexico. The Temple Owls take on the Wyoming Cowboys in this clash of two great teams. The Owls come into play with an 8-4 record and a 5-3 record, which is good for 2nd in the MAC. The Cowboys also have an 8-4 record with a 5-2 record, which is 3rd in the Mountain West Conference. With near-identical records, this game should prove to go right down to the last whistle. Temple comes into the game averaging 30.1 points per game on offense with a stellar 13.8 points per game on defense which ranks 3rd in the nation. Wyoming's win-loss record isn't indicative of their ratio of points as the Cowboys average 27 points per game on both sides of the ball. College Football odds for New Mexico Bowl game
The Owls are led behind center by senior QB Chester Stewart (743 passing yards – 65.1 completion pct – 2 td / 2 int – 143.4 rating). The Owls do the most damage on the ground, however which is led by juniors RB Bernard Pierce (248 carries – 1,381 yards – 25 td's) and RB Matt Brown (142 carries – 867 yards – 5 td's). The receiving core is led by seniors Evan Rodriguez (33 catches – 427 yards – 2 td's) and Joe Jones (27 catches – 296 yards – 3 td's). The Owls are led from the sidelines by first year head coach Steve Addazio. College Football betting action on the New Mexico Bowl game.
The Cowboys are headed by freshman QB Brett Smith (2,495 passing yards – 60.5 completion pct – 18 td / 8 int – 126.2 rating). The Cowboys running attack is a two-pronged strategy with junior RB Alvester Alexander (145 carries – 678 yards – 6 td's) and QB Brett Smith (123 carries – 645 yards – 10 td's) showing his two-way threat behind center. The Cowboys have a team effort in wide outs with five players having over 30 catches this season. Junior WR Chris McNeill (42 catches – 504 yards – 4 td's) and sophomore WR Robert Herron (40 catches – 346 yards – 3 td's) are the top two threats downfield. Senior WR Mazi Ogbonna (39 catches – 430 yards – 3 td's) and freshman WR's Dominic Rufran (35 catches – 378 yards – 2 td's) and Josh Doctson (32 catches – 361 yards – 4 td's) are also dangerous beyond the marker.
Open an account for the best Sportsbook Parlay and Vegas Teaser Payouts in the Industry.