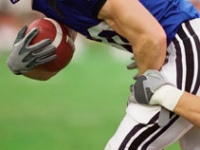 December 20th marks the Beef O'Brady's Bowl in St Petersburg, Florida with the Florida International Golden Panthers taking on the Marshall Thundering Herd. FIU comes into play with an 8-4 record and a 5-3 record in the Sun Belt Conference. FIU averages 26.3 points per game on offense and 19.4 points per game on defense. FIU also leads the nation in punt return yardage with their return team a constant threat to take it all the way. FIU is led by fifth-year head coach Mario Cristobal. Marshall comes into play with a 6-6 record that is 2nd in Conference USA. The Thundering Herd average 22 points per game on offense and a head-scratching 30.2 points per game on defense. Marshall Is led by second-year head coach Doc Holliday. College Football odds for Beef 'O' Brady's Bowl game.
The Golden Panthers are led by senior QB Wesley Carroll (2,224 yards – 59.7 completion pct – 14 td's / 4 int – 134 rating). The FIU running attack is paced by sophomore Kedrick Rhodes (224 carries – 1,121 yards – 8 td's). The Golden Panthers are led down the field by senior WR T.Y. Hilton (64 catches – 950 yards – 7 td's) and junior WR Wayne Times (51 catches – 531 yards – 2 td's). T.Y. Hilton is also the main cog behind FIU's punt return machine returning a punt for a 97-yard touchdown in a 41-7 rout of Florida Atlantic on November 12th. College Football betting action on the Beef 'O' Brady's Bowl.
The Thundering Herd are led under center by freshman QB Rakeem Cato (1,833 yards – 58.5 completion pct – 13 td's / 10 int – 125.2 rating). The running game is in capable hands with both sophomore RB Tron Martinez (144 carries – 591 yards – 3 td's ) and freshman RB Travon Van (132 carries – 529 yards – 3 td's). Marshall continues in the great tradition of wide outs such as Randy Moss with steady junior WR Aaron Dobson (42 catches – 587 yards – 10 td's) pacing the Thundering Herd down the field. With the steadiness of Kedrick Rhodes on the run and the dangerous capabilities of T.Y. Hilton on punt returns, FIU is looking to make a statement against Marshall. The Thundering Herd will have a lot on their plate as it looks to finish the season above .500 by upsetting the Golden Panthers.
Open an account for the best Sportsbook Parlay and Vegas Teaser Payouts in the Industry.