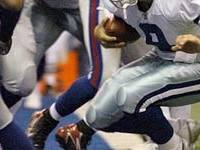 Miami, not of the South Beach variety, but the one from Ohio meets their intra state rival Ohio State on Saturday afternoon in Columbus. The aptly named stadium for this affair is none other than Ohio Stadium and the first kick is scheduled for noon eastern time. The game can be seen in most of the country on the Big Ten Network.
Ohio State has a chip on its shoulder which has been squarely placed there by new coach Urban Meyer, he being previously from a school who played in the same state as South Beach. Ohio State has been banned from making the postseason this year due to a variety of NCAA violations. Therefore, their goal is a simple one. Go 12-0 in the regular season, after suffering their first 7 loss season in 114 years. Check the NCAA Football Lines for Notre Dame vs. Navy Game.
Look for the Buckeyes to play an up tempo offense under Meyer. Second year QB Braxton Miller gets the start for Ohio State with much heralded senior QB Zac Dysert going for the RedHawks.
Even after going 6-7 last year the Buckeyes are ranked 18th in the nation and should have no problem starting the season off with a win versus the RedHawks who were 4-8 last year.
However, the underdog is 8-1 ATS in Ohio State tilts, while the Redhawks are close to a 10-0 run ATS. The Buckeyes have put together their own run, going 29-14 ATS lately, and 14-5 ATS as home favorites. They are 15-3 ATS in home openers, and 8-0 ATS in the first of two home games. They are also 11-3 ATS against non-conference opponents. Start your NCAA Football Gambling action on Notre Dame vs. Navy Game.
Miami Ohio are 12-6 ATS recently, 11-5 ATS on the road, and 14-6 ATS in road openers. Ohio State is 4-0 all time vs. Miami (OH), having last played them in 2005. In that one, Ohio State came out with an easy 34-14 victory in a game where they were favored by 15 ½ points.
Ohio State is favored in Columbus by 24.5 points at a -$110. It will take another $110 to bet the under / over of 48 total points.
Open an Account for the best Sportsbook Parlay and Vegas Teaser Payouts in the Industry.
Check the Game Podcast: