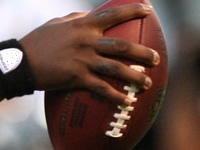 For College Football Betting Enthusiasts exciting Freshman players can really help them make some money off of their performances. Some of them are able to carry out their fantastic performances through out the rest of their college careers, but some hit what experts are calling the "second-year wall."
College Football bets can be affected by poor or excellent performances of certain players. Many factors affect this, ranging from personal, to coaching, to situational changes can have a real impact of what is displayed on the football field. Some players for this upcoming season are expected to reach a slump and if you are interested in college football betting this list might be in your best interest.
The first in our list is Maryland's Amba Etta-Tawo. The wide receiver had some very considerable stats for his freshman year. His performance planted him as a very important offensive weapon for the Maryland team. But this year he is expected not to make the same mark. The reason? Maryland had been struck with season ending injuries for two of their best players last year Stefon Diggs and Deon Long, forcing the coaching staff to mix things up a bit. With the return of these two players to the active roster might force Etta-Tawo to not have such a protagonist role this season.
In Colorado, Quarterback SefoLiufau is concerned about the numbers he will bring to the table. Last year Liufau had the big benefit of counting with WR Paul Richardson as a preferred target, with Richardson gone. LiuFau will be now force to rely on some freshman Wide Receivers that are a real gamble. College football bets on Colorado might be quite a risk this year.
UCLA's running back Paul Perkins was a pleasant surprise last season. Perkins led his team in carries and yards. But similar to Etta-Tawo, the main reason for this was due to a teammate's injury. Jordon James is the team's top ball-carrier and last year was afflicted with injuries cutting short his amount of playing time. Perkins will be there awaiting for his opportunity but, all signals point to James to be the main option for the Bruins this year.