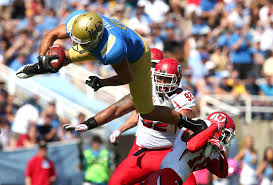 For the NCAA Football fans who play at the Offshore Sportsbook, and who Bet on College football this Friday the 15th of November we have the pleasure of enjoying a Pacific 12 matchup between Washington HUSKIES (6-3, 3-3 4th PAC 12 North) visiting the # 16 UCLA BRUINS ( 7-2, 4-2 2nd PAC 12 South) and the game will be played at the ROSE BOWL in Pasadena, California and kickoff is scheduled for 9 PM ET.
This game being played on a Friday night which is unusual for NCAA FB, more than likely the Sportsbook will not have early odds on this game, probably until Thursday or Friday the day of the game.
The Huskies in their last outing which was a win over Colorado 59-7 as their QB Price ran for one touchdown and threw for two other TD's ad the Huskies accumulated some 628 (316 rushing & 312 passing) yards of offense in that game. With that win the Huskies are now Bowl eligible which is their 4th consecutive season of accomplishing that eligibility. Price had an excellent game throwing 22 completions of 29 attempts and accumulated 312 yards in their passing game. With the TD's QB Price had in this game he moved into 10th place in the PAC 12 for all-time TD passes and he tied with Carson Palmer with his 72 touchdown passes in his career. At the same time WR Richardson for the Huskies with his TD put him over the 1000 yards receiving for this 2013 season. If the Huskies continue this pattern of offensive play they will be in the mix for division Title.
The UCLA Bruins also of the PAC 12 last Saturday beat Arizona 31-26. This was a strange game as the freshman MLB Jack for the 1st time played defensively and offensively and on his offensive play he managed six carries for some 120 yards and that included a TD run of 65 yards. On defense he recovered a fumble in the end zone an had eight sacs for the game. This win was the first time that the Bruins won in Arizona since back in 2003 some 10 years ago. With this win the Bruins still are a game behind Arizona State for the first position in the PAC-12 South. Arizona did not give this game up easy as in the 4th quarter as QB Denker threw for two fourth quarter touchdowns to their WR Phillips. The Arizona team got the ball two more times in that quarter but unfortunately could not create another score. The statistics of this game were very well matched and both teams performed well. It was amazing that in all the statistical categories the two teams were almost identical, for example on rushing yardage the Bruins had 49 for 249 and the Wildcats of Arizona were 47 for 259 yards. Good Luck Bruins and Huskies!