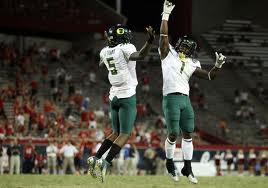 The championship game is upon us! The Oregon Ducks face the Ohio State Buckeyes in the matchup every college football betting fan has been eagerly awaiting. There were people hoping for Alabama vs. Florida State to be the matchup, but after strong and determined performances by Oregon and Ohio State, the championship game will see two excellent teams fight it out for the coveted National Tittle.
This game will also crown the first champions of the new controversial College Playoff system. We preview both teams and we will give you our early prediction on which team you should expect to see lifting the trophy.
The Buckeyes at first might be considered by may as just "happy to be there," but in reality they would be wrong. Urban Meyer has proven once more that he is the real deal, by leading this team with a third-string Quarterback to topple the No. 1 ranked team in the nation.
Ohio State stunned the Alabama Crimson Tide at the Sugar Bowl. On top of that, the Buckeyes had to resort to using Cardale Jones as their QB in just his second career start. The college football betting world was stunned that, even after a wobbling start, the Buckeyes were roaring with a comeback victory that was a joy to behold.
When told of the final result of the Rose Bowl (Oregon beat the up until then undefeated Seminoles 59-20), Urban had a priceless reaction. "Oregon won by 40?" he said chuckling, and then said "We gotta go get ready for that one." And he should.
The Ducks not only put an end to the defending champs' #Zombienoles undefeated streak, they did it with a display of talent that was amazing. Heisman trophy winner Marcus Mariotta is simply on a top level form and Running Back Royce Freeman is another threat to contend, the Ducks are the early favorite to win it and with good reason. Our college football betting pick is for them to be the national champs on January 12th.