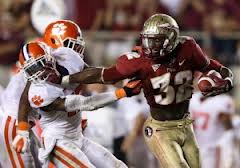 The NCAA FB Schedule brings the College Football and Sportsbook fans the ESPN Game of the Week with two ACC Conference teams, the AP #5 Florida State Seminoles visiting the AP #3 Clemson Tigers this Saturday at 8:05 PM. This game has a very large following whom are divided as to who will actually win the game and maintain their rankings in the Associated Press as well as the Atlantic Coast Conference standings where Clemson (6-0) is ranked 1st in the Atlantic Division and FSU is ranked 2nd in the same division.

Why many sports fans think Clemson will win in so called Death Valley!

Certainly this game for those that bet on college sports has a very exciting matchup of quarterbacks in Clemson's Tajh Boyd (a senior) and FSU's Jameis Winston (a freshman) whom both have had a great season thus far, but the fans believe Boyd has the advantage, as he has had the opportunity to experience the setbacks of losing. This season he has experiencing winning as Clemson bet the Georgia Bulldogs, the LSU Tigers and are 6-0. Furthermore as a senior, it's his last opportunity to win a national NCAA title.

The Clemson team on defense is very different from the team that played FSU in 2012 and allowed then to chalk up some 667 yards and put 49 points on the scoreboard. The defense had been the reason for diminishing hopes of a National Title, but this season they are only allowing the opponents to score no more than 16.2 points per game and that ranks 10th in NCAA Division 1. This same defense has a higher ranking for scoring defense than for prevention of opponent scoring. The Clemson defense ratings are actually better against the ACC opponents than the teams they play outside of the conference.

The advantage of playing at home has to be considered in this game between FSU @ Clemson since in the last 11 years the home team has won the game in ten of those years. To add to the Death Valley stats, Clemson has won five times consecutively playing FSU with the Seminoles last winning in 2001! Also, take into considerations that Boyd stats reflect a 17-1 record in home games.

Then why do FSU fans think their Seminoles will win this game in the Valley?

In this matchup the quarterbacks are being recognized and Boyd of Clemson appears to have the best credentials to this far. However, Winston in his 1st five games has been close to perfect in his game performance and fans believe that in this Death Valley game he will exceed all expectations. This season Winston's passing in ACC games has averaged 300 yards and four TD's per game in the three games this season and has a QBR ranking nationally of 5th at 91.0 and that's 36 points over Boyd's ranking. FSU has been off this past week allowing them an extra week to prepare for this confrontation and the Clemson defense. This also gives FSU fans who Bet on College football an extra incentive.

Florida State should have advantage in the running game, and that can open up the defense for Winston's passing game, as FSU has three tailbacks that can break a game open as they did last year scoring five TD's and had a 7.2 yard average against Clemson.
Another area of contention is the defensive secondary which last year kept Clemson QB Boyd to his second lowest QBR rating and allowing WR Watkins only 24 yards. The 2013 FSU defensive secondary has only allowed 149 passing yards in each outing and that ranks 5th in the nation.