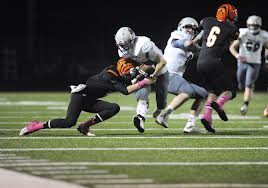 This Wednesday the NCAA FB moves on to Week # 10 at 8PM with the Cincinnati BEARCATS (5-2) of the American Athletic Conference visiting the Memphis TIGERS (1-5) also of the same conference in Memphis. The Offshore Betting odds on this game are naturally favoring the Bearcats in this matchup!

The Memphis Tiger are in their first season in the new American Athletic Conference after exiting the Conference USA and the AAC is now comprised of ten teams with the majority formerly of the East Conference or the USA. Following this game with the Bearcats they will face UCF, South Florida and Houston in a very competitive league as they gear up their competition. The major problem facing the Memphis team this season is the lack of experience and seasoned starters coupled with the move into a stronger conference. Fuente, the Memphis Coach after their 34-29 loss against SMU explained why they played so poorly in the first half of that game which he stated as unacceptable. Part of the explanation projected the development of their offensive line with unseasoned new players who at this point as a team are unable to dominate.

When one desires to Bet on College football at a Sportsbook they seek the teams that are out of the NCAA 1st Division spotlight and look at teams such as the Bearcats who have a strong record early in the season, and in their last game beat U Conn 41-16. This season the Cincinnati team is putting a lot of faith in their Senior QB Brendon Kay who this season was already chosen as the conference Offensive Player for a week which was just two weeks ago and then last week beat U Conn at their homecoming. In that game QB Kay threw for 4 TD's amassing some 300 yards in the air while WR Davis caught 8 passes totaling 140 yards and RB De Lorenzo scored a touchdown and had 48 yards rushing on 6 carries on offense. The Cincinnati team to date has managed to win 4 of the last 5 games pushing their win/loss record for the season to 5-2 with the defense being 13th with 17.5 points per game scoring while the offense has averaged some 34 points each game which ranks 42nd.

For the football fans who Bet on College football will be interested in knowing that this Wednesday night game will be played in the Auto Zone Liberty Bowl that is also the home of the Memphis Tigers located at 335 South Hollywood Street. Good Luck to the Bearcats and the Tigers!