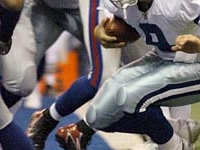 The No. 5 Baylor Bears 5-0 (1st Big 12) will play the TCU Horned Frogs 4-0 also (1st in Big 12) at the McLane Stadium in Waco, Texas on Saturday, Oct.11th 2014. The game starts at 3:30 PM ET and will be televised on ABC/ESPN TV. Let's preview this important college football matchup, along with the Alabama-Arkansas game.
This Big 12 matchup, between the Bears of Baylor and the Horned Frogs of TCU, finds the Bears favored at -8 ½ for early odds. This game is titled the Red River showdown between the league two teams that remain undefeated. This all takes place as things change in the Big 12, as teams that were powerhouses, may even miss a bowl game, and former losing teams are now scrambling for the title.
The Horned Frogs upset the Oklahoma Sooners last weekend 37-33 and now is in contention for the Big 12, and only in their 2nd year in the league, in which they were 6-12 for that period. Their QB Boykin led a game of 395 yards of offense in the upset win over Oklahoma. To date he has completed 99 of 161 passes for 1,176 yards and 10 touchdowns and also leads in rushing yardage with 260 yards on 61 carries and 3 touchdowns Receiver Listenbee has had 14 receptions for 272 yards and 2 touchdowns.
This past week the Baylor Bears beat the Texas Longhorns 2-3 (5th Big 12) 28-7 and leaned heavily on their offense since their QB Petty had a poor day, not a typical game for Petty whom to date has completed 73 of 123 passes for 1,024 yards and 9 touchdowns. RB Linwood has had 90 carries for 449 yards and 8 touchdowns while Receiver Cannon has 24 receptions for 527 yards and 5 touchdowns. Fortunately Baylor survived the past weekend of upsets and now is the highest ranked Big 12 team.
This Big 12 game, will be only the third, at Baylor Bear's new stadium, aside the Rive Brazos just 100 miles south of the grounds of the State Fair of Texas. The game will leave only one Big 12 team undefeated and just halfway through the first four-team College Football Playoff season 2014.
---
The 2nd of two of the Top ranked teams previewed in NCAA FB Week 7 is the No. 7 Alabama Crimson Tide 4-1 (5th SEC West) playing the Arkansas Razorbacks 3-2 (6th SEC West) with the game being played also on Saturday, Oct.11th 2014 at the Razorback Stadium in Fayetteville, Arkansas at 6 PM ET and on ESPN TV. The Alabama Crimson Tide is favored in this game at -10 ½, with no early line on the totals but a ML of -380.
This week the 7th ranked Tide seeks a comeback after last week failing to do so playing now the No. 3 Ole Miss Rebels as the finished their last 2 drives with a fumble and an interception in their 23-17 loss, and now cannot afford any losses the rest of the season. Alabama has been there winning 3 national titles under Coach Saban, but now the task becomes more problematic with the Tide having 3 key players injured.
This 2014 season Alabama has had some problems that finally caught up with them with being 13th in turnovers in the league, 10th in offense in the red zone and 9th in penalties. To date, Tide QB Sims completed 90 of 128 passes for 1,319 yards and 8 touchdowns while RB Yeldon has had 77 carries for 407 yards and 2 touchdowns. Receiver Cooper has some 52 receptions for 746 yards and 5 touchdowns.
The Arkansas Razorbacks played a good game against No. 6 Texas A&M and were unable to win their 4th straight as the lost 35-28 in overtime losing their 14th SEC game. The Razorbacks have been averaging 44.6 which is tied for 7th in the FBS.
So NCAA football fans, especially those that bet on college football at an online sportsbook, enjoy this week's games as next week the Big 12 and SEC schedules will not get an easier.