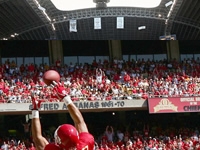 College football betting to the climatic scenes and the playoff picture is starting to shape up. The bowl matchups are beginning to clear out with the teams ramping up for the most exciting times in college football. How things are beginning to look we could very well have two SCE teams in the four-team playoff as well as we might have none. And are the chips begin to fall on the regular season, we will look on the status of 5 teams and the bowls we believe that they will play.
The Mississippi State Bulldogs are the most likely team to be the No. 1 team in the country. They recently escaped a tough Arkansas challenge and now they are gearing up to face Alabama in a would-be decisive away game. We are predicting that they are going to the Sugar Bowl.
Another darling team when it comes to college football betting is the Florida State Seminoles. Florida State survived last Thursday night the onslaught by Louisville and displayed a great second half performance. However the Seminoles are not quite as they were on last year's level. So far it is looking as they will be the No. 2 seed in the playoff. Expect them to be at the Rose Bowl next January.
Auburn has the possibility of crashing the playoff party. However their upcoming schedule will be a tough one. They are reaching make or break time and considering how they have been playing, they have a good chance of securing that No. 3 seed and finding their way to the Orange Bowl.
The Oregon Ducks are starting to peak at the best possible time, when it matters the most. They are healthy, strong and playing some great football as they enter November with a mission to go all the way, their schedule, while it has some tricky steps, could be easier than their opponents. Expect them to reach the Rose Bowl.
Finally to close out this college football betting round-up, we have TCU. A dramatic, cardiac win in Morgantown, has kept the Horned Frog's alive and kicking aiming for that playoff spot. They are now on to their next challenge against Kansas State with the Big 12 title on the line. The Horned Frogs are very likely one of the teams that you can expect to see at the Sugar Bowl