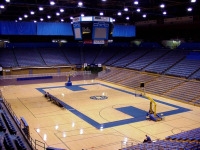 With the 2014-15 NFL and NCAA Football games coming to an end, we will begin to review and recap some NCAA Mens Basketball and NBA games through the famous March Madness and the NBA 2014 Finals.
This week, we preview a NCAA mens game between the 11-2 Iowa State Cyclones who are playing at the 14-1 West Virginia Mountaineers on Saturday the 10th of January 2015 with the game being played at the WVU Coliseum in Morgantown, West Virginia at 8 PM ET.
The West Virginia Mountaineers this past week continued their strong beginning of the 2014-15 seasons as the beat Texas Tech by some 11 points for their 8th straight victory, and now for the Mountaineers to extend that to 9 straight wins will be easy, since their next game on Saturday is against the Iowa State Cyclones who recently have been playing some fantastic basketball, as well as winning 8 of their last 9 season games.
If you bet on college basketball at a sportsbook, and you are a Iowa State fan, then you will be glad to know the Cyclones player Hogue had the game if his career last Wednesday against OSU Cowboys as he scored some 17 points and all in the 2nd half of the game in their win 63-51 over Oklahoma State, in their Big 12 opening game. But he can't do that it every game, thus in their game against the Mountaineers, it will be up to Niang, Jones and Long to carry the scoring cudgels for the Cyclones, as those three are averaging 43 combined points each game, and that's over half of the teams total scoring. But the scoring won't get any easier for these Cyclone players, as the Mountaineers are 70th in the NCAA with scoring defense, and have only allowed opponents an average of 61.2 points each game.
Then if you're a West Virginia Mountaineer fan and you bet on college hoops, you may be interested in knowing the main reason the Mountaineers have risen in the NCAA team standings, is a result of the excellent defensive play, as they presently are leading the steals department, as they have average 13.1 steals per game this 201-15 season. Evidence of that was seen in their game with the Texas Tech Raiders as WVU scored some 16 points off the 22 turnovers they forced in their last game. In this upcoming game, a lot of pressure will be on WVU players Carter and Holton to beef up the defensive effort in the upcoming game against the Cyclones, primarily as in their last game they only had 9 steals in the game, and that's far below their average per game. Previously Carter had averaged 2.3 steals each game, with Holton averaging 1.7 steals each game this 2014 -15 seasons. The primary goal for the Mountaineers in this game will be to disrupt the Iowa State Cyclones offense, which are 13th in scoring this season as they averaged 82.4 points each game. Stay tuned as we will preview and recap many more NCAA Hoops and NBA games in the coming weeks!