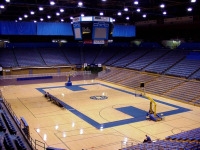 The Pittsburgh Panthers will be playing in the second round of the Big East Tournament at Madison Square Garden against the Georgetown Hoyas. The two teams are facing each other for the second time this year. The Panthers won 72-60 on January 28 while at home in Pittsburgh.
The Pittsburgh Panthers are 17-15 with a 5-13 Big East record. They beat St. John's yesterday 73-59. The Panthers were forced into the first round of the tournament after losing five straight games in February. Start your College Basketball Wagering action on Pittsburgh vs. Georgetown game.
Ashton Gibbs, a senior guard, has been leading the Panthers all year with 15.6 points per game. However, he has struggled to keep up a strong field goal percentage. He has a rating of 38.9% from the field. It is getting about 86% of his free throws though. Also, the team is getting 15.1 assists per game, making them thirty-third among nearly 350 Division I basketball schools.
The Georgetown Hoyas were able to get a first round bye for the Big East tournament but were one game shy of getting a double bye. The Hoyas are 22-7 with a 12-6 Big East record. They are #14 in the USA Today/ESPN poll and #13 in the Associated Press poll. The last game for the Hoyas was on Saturday when they lost 83-69 to Marquette, leaving them 5-3 among teams who were nationally ranked as they were being played.
The Hoyas have one of the better shooting teams in the Big East. The team has a 46.1% field goal percentage for the season. This includes a 51% rating from freshman forward Otto Porter. Senior guard Jason Clark still leads the Hoyas with 14.3 points per game. Check the NCAA Basketball Odds for Pittsburgh vs. Georgetown game.
The Hoyas are the clear favorite to win this game. The Hoyas have a -6 advantage over the Panthers with a -105 payout. The Panthers have a -115 payout for a +6 underdog status. Georgetown has a -250 moneyline while Pittsburgh has a +210 line. The over/under for the game is 124.
Open an account for the best Sportsbook Parlay and Vegas Teaser Payouts in the Industry.