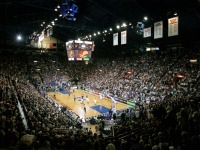 Those of us who are betting on college basketball are twitching with anticipation for March Madness are VERY excited when for the weeks leading up to the tournament. Right now in the month of February we have a list of some highly anticipating games that could give us a taste of what is to be expected.
The first game worth mentioning is Notre Dame at Duke on February 7th. This is a rematch that we are eager to see. The last time these two teams played the Blue Devils fell 77-73 in a thrilling game versus the Fighting Irish. Expect a very close game where the under should be your pick.
Currently undefeated Kentucky, is marching towards the elusive perfect record of 40-0, a feat that has not yet been achieved in Division I history. One of their potential pitfalls is their game against Florida in the O-Dome. Fans that are betting college basketball awaiting each of the Wildcat's games with much anticipation. This year they will go to face the Gators who are not having their best year, but they still pose a real threat to the spotless record Kentucky is holding.
Finally another game that should be a good one is when Arizona travels to face Utah in Salt Lake City. This is yet another highly expected rematch from the thrashing Arizona gave the Utes in their previous encounter in January. Fans that are betting college basketball are hoping that this game is much closer and with even the possibility of the Utes claiming their revenge. We believe that spite the fact that the Arizona Wildcats will march into this game as favorites, Utah could very well pull the upset.
Finally the last game we would like to preview is the match up that is going to happen in February 18th, when Duke hosts North Carolina in what promises to be a classic epic matchup. With march madness right around the corner both teams will be looking to score a huge win that could boost their morale going in to the tournament.