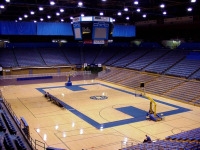 The 28-1 Kentucky Wildcats, the top ranked team in the country, will be playing on Thursday against the Georgia Bulldogs in an SEC match at Lexington's Rupp Arena. This is the second time the teams have met this year. Kentucky won in Athens on January 24 by a score of 57-44.
The Kentucky Wildcats have already clinched the regular season title for the SEC and are looking to try and secure a top seed in the NCAA Tournament. However, this will be the first game for the Wildcats in nearly a week. They last played on Saturday in an 83-74 win over Vanderbilt. Check the College Basketball Odds for Kentucky Wildcats vs. Georga Bulldogs game.
Anthony Davis, a freshman forward, is very close to having a double-double for the season. He already has 14.3 points per game but he is only getting 9.8 rebounds in each game. His latest performance included a 28 point game against Vanderbilt where he went 10-11 in field goals and 8-9 in free throws. In fact, Davisleads the SEC with a 65.8% field goal percentage.
The Georgia Bulldogs have struggled to a 13-15 record for the year. This includes a 4-10 SEC record, making them tenth in the conference. The team has lost three of its last five but the two wins were against Mississippi State and Florida. The Bulldogs' last game was a 76-62 win over Florida on Saturday. Start your College Basketball Betting action on Kentucky Wildcats vs. Georga Bulldogs game.
Senior guard Gerald Robinson and freshman guard Kentavious Caldwell-Pope are both getting around fourteen points in each game. In fact, Caldwell-Pope is getting 1.8 steals in each game. This is enough to make him fourth in the SEC in that category.
The Wildcats are favored to win this game just like they have been throughout just about all of their other games this year. The Wildcats have a -10.5 advantage over the Bulldogs. There are no other bets available on the game just yet but it is expected that the Bulldogs could have a moneyline bet of at least +300 if a moneyline bet option is created for the game.
Open an account for the best Sportsbook Parlay and Vegas Teaser Payouts in the Industry.