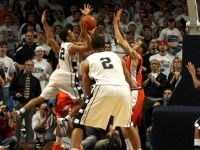 These two two teams will be fighting it out tonight and this could be one of the biggest upsets so far this season. Duke is a 10.5 point favorite, but NC State and coach Gottfried are eager to end a long losing streak to Duke and they might have the talent to pull it off tonight. Check the NCAA Basketball Odds for Duke Blue Devils vs. North Carolina State Wolfpack game.
Duke seems to have recovered from their loss to Miami a few games ago, with a buzzer shot win against North Carolina and beating Maryland on Saturday. But they still have a long way to go before the playoffs. Coach Krzyzewski is looking for his key players to improve their consistency and is hoping to see another big game from Plumlee. The Blue Devils need to prove to America that they still belong at the top, and if they don't perform well against NC State it could cause a sever drop in rankings. Start your NCAA Basketball Betting action on Duke Blue Devils vs. North Carolina State Wolfpack game.
Duke and NC State have both had excellent seasons thus far, with 21-4 and 18-7 records, respectively. These teams have been strong rivals for many years, but with Duke dominating State year after year, fans have started to lose interest. But this year will be the exception. For the first time in many years, the Wolfpack has a legitimate chance of grabbing the win.
Open an account for the best Sportsbook Parlay and Vegas Teaser Payouts in the Industry.