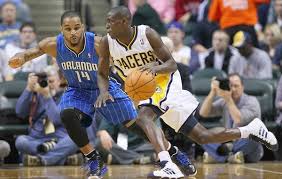 The 2013-14 NBA Regular Season Tips of on Tuesday October 29th with three games to start the season and
NBA odds
are available at SBG Global with the 1st game at 7:10 PM –Orlando MAGIC @ Indiana PACERS, 8:10PM- Chicago BULLS @ Miami HEAT & 10:40 PM from the West Coast the LA CLIPPERS@ LA LAKERS with a full schedule of games The following night Wednesday, October 30th!
The start of the season finds the Eastern Conference struggling and not as strong as the Western Conference, with exception of the Miami Heat but they have managed to make some improvements as Derrick Rose is back along with the magic of Thibodeau the Bulls are now considered elite. The Brooklyn Nets spent and cornered Garnett and Pierce and it's a team endowed on beating the Heat. This season the Pacers have improved their bench after the experiences with the Heat last season in the East Finals. The rest of the group, the Celtics, Bobcats, Raptors, 76'ers, Wizards, Knicks, Bucks, Cavaliers and the Pistons will challenge for the playoffs. ? Can the Heat remain heated up or will the Bull who have the league's best record against the Heat if Rose can stay healthy give Miami a challenge and will the Nets of Brooklyn with new Coach Kidd become the contender? All questionable so again the Heat is predicted to win the EAST at the
Sportsbook
.
In the Western Conference the Spurs are aging, the Grizzlies do not show much change, the
OKC Thunder
needs veterans Duran and Russell to push their teammates for help if they're to capture the West again! Other teams that show the will to win are Clippers, Golden State, Denver and Houston! One can't forget the Lakers, Timberwolves, Suns, Trailblazers, Kings, Jazz and Pelicans. Thus the Western Conference talent makes the decisions somewhat in a state of confusion. The Rockets are a team has tried to improve their place in the Western Conference and they were able to secure Dwight Howard from the competing Lakers, Hawks, Golden State and the Mavericks are hoping to win their conference and maybe the Title! The Spurs although aging they still think they can go again along with the OKC Thunder bringing a new coach and a strong bench which they seemed to lack in last year's conference finals. The West will be very strong this season and will give the East teams all they can handle. Again the Thunder is predicted to take the WEST Title as projected in Offshore Betting sites.