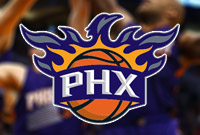 Basketball betting season is always entertaining, but the playoffs are arguably the most entertaining part. Getting into the playoffs is always special and signifies that a team is on the right track. Missing the playoffs is never a good sign, especially when you're missing out several years consecutively. That's why there's so much pressure on first year head coach Earl Watson to be able to bring the
Phoenix Suns
to the playoffs for the first time since the 2009 – 2010 season.
Watson took over for Jeff Hornacek – who was fired after spending two and half seasons at the helm – early February 2016. Hornacek was fired for leading the Suns to an extremely poor start to the 2015 – 2016 season. Watson is a former NBA player whose career spanned 13 years and 7 different NBA franchises. Watson first joined Phoenix back in July 2015 as the organization's new assistant coach. After taking over the suns in early February, Watson led the team to only one victory in the entire month. After going 1-9 in February the Suns would finish the season 8-15 under their new leadership. Even though his performance wasn't exemplary the Suns decided to sign Watson to a three-year deal due to optimistic atmosphere he had instilled into the team. A positive nature is important to winning games, but it won't make you
basketball betting
favorites. Getting into the playoffs should be Watson's primary concern, especially after considering the manner in which Phoenix treated their former head coach.
Jeff Hornacek joined the Sun's organization in late May, 2013. Even though he joined a team with low expectation Hornacek was able to find success. He was the first coach in the history of the franchise to begin his career with a 4 – 0 home record, and joined the likes of Larry Bird and Larry Drew in becoming the third NBA player to win both Player of the Month and Coach of the Month awards – the first player to receive both awards with the same team. Overall, Hornacek's first year as head coach saw a 23 game improvement in the Sun's record becoming the most improved team for that season with a record of 48-34. The following season Phoenix would take a step back falling to 39-43 with them deciding to part ways with the coach the following year. Even though Hornacek was able to find early success Phoenix still decided to part ways with their former player after trying times.
The world of basketball betting isn't a hospitable one but the Phoenix Suns organization is even less. After seeing the way Hornacek was treated you can be certain that this is at the forefront of Watson's mind. Apparently Watson's attitude was enough for the franchise to sign him to a 3-year deal but if he isn't able to make a playoff appearance in these years to come you can be certain that he too will be leaving Phoenix. If you want an idea of how much work the Suns have cut out for them just take a gander at their
sportsbook odds
. Phoenix faces a staggering +40000 odds to win the western conference.