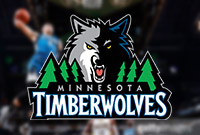 It's increasing harder for fans of betting on basketball to put their money on the Minnesota Timberwolves at SBG Global sportsbook. The T'Wolves finished last season with a 29-53 record; 5th in the Northwest division and 13th in the Western Conference. The takeaway: the Timberwolves are not tied for the second-longest playoffs appearance drought in the history of the NBA with the Golden State Warriors (1994–95-2005–06), and behind the LA Clippers (1976–77-1990–91). Only Solomon Northup has had a worse 12-year period. Not even the return of Kevin Garnett made much of a difference.
Garnett posted his worst numbers ever in 2015–16; he had 14.6 minutes, 3.2 points, .3 blocks, .7 steals, 1.6 assists, and 3.9 rebounds per game in 38 regular season games. However, the fact that he has been traded back to Minnesota is meaningful beyond statistics. After all, it was with Garnett that the Wolves first made the playoffs in 1997 and won a division title in 2004. And now can not only pass the torch, but he can also have his pick of whom to pass it to. The team's core of Karl-Anthony Towns (2015–16 Rookie of the Year), Andrew Wiggins (2014–15 Rookie of the Year) and Zach LaVine (NBA All-Rookie Second Team), and now 2016 draft first round 5th overall pick Kris Dunn – all under 22 years of age – is reminiscent of what Oklahoma City Thunder used to have in Kevin Durant, Russell Westbrook, James Harden and Serge Ibaka.

Additionally, Minnesota has 25 year old Spanish point guard Ricky Rubio, who along with LaVine made the team more effective on offense. According to NBA.com, "the Wolves scored 110.3 points per 100 possessions with Rubio on the floor with LaVine, compared to just 98.4 with LaVine on the floor without Rubio." And as far as defense goes – which is something Minnesota needs to put a lot of work on –, new head coach and president of basketball operations Thom Thibodeau has had experienced and found success as a defensive coach. Moreover, as NBA.com's Draft expert, Scott Howard-Cooper put it, Thibodeau "could see Providence's Kris Dunn as the perfect first move in instilling an attitude of defense and toughness." And so could people betting on basketball at SBG Global sportsbook.

Now, the question in everybody's mind – or at least in mind – is whether Dunn will extend the Timberwolves' Rookie of the Year streak to three seasons in a row. Most fans betting on basketball would probably put their money on either Ben Simmons or Brandon Ingram, but Dunn has something that the 1st and 2nd 2016 NBA draft picks don't and it's a full college education. Not to take away anything from Simmons and Ingram, but that means that Dunn is not only older and more experienced, but he probably is smarter as well. Furthermore, Dunn is the only guard in history to become defensive player of the year and Big East player of the year, and along with legend Patrick Ewing, the only one to win those two honors twice.