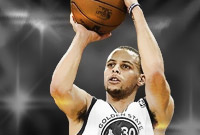 MVP Stephen Curry and not-VP Damian Lillard went toe to toe in Game 4 of their second-round playoff series on Monday, but Curry's sneakers which house his toes cost more than $500. It was a battle of the league's best point guard versus the league's second best point guard, and Lillard gave Curry a run for his money for the entirety of the game – regulation time, that is. When the match went into overtime, Curry just said screw this noise. He scored the first 12 Warriors points in OT and set an NBA record of 17 in the extra quarter on his way to scoring 40 points as the Warriors defeated the Blazers, 132-125, to take a 3-1 series lead. The Warriors will have a chance to wrap up on Wednesday at home, where online betting odds favor them -1100 to
+700
.
The Warriors hardly noticed Curry's absence in the first three games of the series as he was out with an injured right knee. They did stumble in Game 3 though as Lillard led the Blazers to a win with a remarkable fourth quarter during which he scored 40 points. As it turns out though, the answer to a one-man apocalypse is springing up your own from the bench. When Lillard took over again in the fourth quarter in Game 4, Curry gave him a few warning shots; nine three-point warning shots all of which he missed, only to sink the 10th and give the Warriors a 103-100 lead with 4:35 remaining, after which people
betting on basketball
on the Warriors breathed a sigh of relief.
Lillard and Curry scored or assisted on the final 22 points of regulation. They both take their teams to a whole new level when they're on – or more precisely speaking become a one-man show. Curry was the better player on Tuesday – and everyday seems to be Tuesday, leading a charge in overtime that made the impossible seem possible. After appearing to rush jump shots in the first three quarters, in overtime he looked like he hadn't missed a beat. In addition to Lillard, C.J. McCollum did the best he could with 24 points to add to Lillard's 36, but it was all for naught against the NBA's first-ever unanimous MVP (unanimous? I thought everybody knew who Stephen Curry is). They fought against the league's best regular season team of all time, and they almost pulled it off. The Blazers fell to Curry on Monday, but their future is bright. Maybe not the near-future; that looks as bleaks as ever with online betting odds predicting an elimination that will probably not be quick or painless, given their penchant for fighting back. But there is always next season.