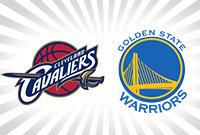 The Golden State Warriors floundered a bit on their post season run, and all the while NBA betting fans started to doubt them. Luckily for them, they schooled the OKC Thunder on the Western Conference and they outplayed the Cavaliers at home, and all is well once more. The Warriors in one fell swoop reminded the entire basketball betting world that they won 73 games in the regular season, have the unanimous MVP on their roster and they are the defending NBA champions, for a reason. And now with a
2-0 lead
, a win on the road for them could pretty much clinch the NBA title.
Why? Simple logic. If the win one game on the road versus the Cavaliers, they would be just one win away from becoming back-to-back champions. They could sweep Cleveland, and they have the talent to do so, however the Cavs are still undefeated at home. If the Warriors take one game on the road, the series might just be as good as over. The reason being is that we do not see the Warriors losing a potential Championship game at home and not how they are playing.
Currently the line* for Game 3 is:
Warriors

+1 (-110)

204½ (-110)
Cavaliers

-1 (-110)

204½ (-110)
*Lines are liable to change; currently this line does not have a Moneyline posted.
The line has been dancing between and it started with the Cavaliers as the NBA betting favorites, but then after some action being placed on the Warriors the line moved to favor Golden State, but after a while it fell right down the middle and it is currently -1 in favor of the Cavaliers. That could (and most likely will) change, as we get closer to game time tonight.
The bad news for the Cavaliers is that, despite being undefeated at home, there is not a whole lot of optimism surrounding them. Kevin Love is almost certainly out for this crucial game. Despite him not being the superstar that was expected from him, he is still a big piece of the Cavs puzzle. This will put their depth to the test as the Cavs bench will need to scramble to cover for him, and they have notoriously struggled dearly with the Warriors bench. Also, and this could be nothing in the end, there has been a couple of rumors lately stating that the Cleveland locker room is experiencing some form of division. Again, this is pure gossips and rumors, but it does make sense as the Cavaliers played the first two games with some apparent distraction. All this, and a couple big wagers could finally tip the line for the Warriors to be favorites again.
For game 3, we do think that the Cavaliers will come out fighting and Golden State will need for their top stars to put on a big performance.
NBA betting
fans putting their money on Golden State seems like the smart bet. At this point is the safe bet because the Warriors seem more solid of a team and the Cavs are shaky. Don't be to shock if Cleveland end up swept.