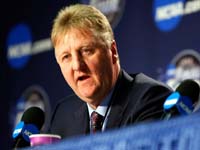 The Pacers gave all NBA Betting fans a bit of a surprise this past Sunday with a shocking upset victory over the Warriors. Indiana was able to capitalize the fact that Stephen Curry was sidelined with a minor injury of his right ankle. Without one half of the Splash Bros, the Pacers were able to exploit on all the many faults the Warriors showed. Final score was 104-98.
Perhaps the biggest takeaway of this Sunday's game was that, even though the Pacers did exhibit some decent looking basketball, the Warriors NEED a healthy Stephen Curry on the court. The warriors had Klay Thompson trying his best to fill in the leader role scoring 39 points in the game, but even though the shooting percentage of the Warriors was at a 38.2 percent. In short, they were a completely different team without Stephen Curry.
NBA Betting fans saw that without the involvement of Curry, the Warriors offense lacks "punch" and effectiveness. The Dubs were not able to break the Pacers and suffered this game like they tend to suffer when Curry is not on the court with them. Yesterday's game also went as far as to give MVP award voters a strong case for Stephen Curry, as the best player of the Warriors and the league.
What the Warriors must focus on their training sessions is to be ready in the eventuality that Curry is not present in future games. They need to learn how to play by themselves, especially if they plan to make a tittle run when the Playoffs begin.
As for the Pacers, this was a much needed confidence boost. Yes, they had some advantage, but they did beat the best team in the league. This win helps them keep their playoff aspirations alive, especially with the lackluster competition that the Eastern Conference has. NBA Betting fans will see if Indiana is able to keep the rhythm they displayed yesterday.