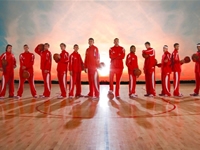 If you thought the men's version of Team USA basketball was good, you ain't seen nothing until you watch the lady's play. They will compete in their second 2012 Olympics game versus Angola beginning at 5:15 pm eastern time tonight.
Its been twenty years since they last suffered a defeat in Olympic competition. That year, 1992, they captured the bronze, which began a 34 game win streak and four gold medals beginning with the 1996 games. Since women's hoops was added to the games in 1976, the Americans have posted a 51-3 won/lost record in the competition. Check the Sportsbook Odds for the upcoming Olympic Games.
For Angola, the situation is quite different in that this is their first trip to the women's Olympic basketball scene and comes off the strength of them capturing the 2011 African Championship. In the African tournament, Angola won 7 of 8, behind the play of Sonia Guadalupe who led the team with 11 PPG, while Felizarde Jorge and Naciessela Mauricio averaged 9 points each. Nadir Manuel and Louise Tomas each grabbed 5 boards a game for the Angolans.
In the Olympics first game, the twenty-seventh ranked Angolan group were defeated by another newcomer to the games Turkey, 72-50 Saturday. Mauricio had 11 points for the loser in that one.
The Americans got things started with an easy 81-56 win over Croatia. It was a balanced effort as Tina Charles netted 14 points and had 10 rebounds, Angel McCoughtry had 13 with 3 thefts and Candace Parker had 11 points and grabbed 13 boards. Tamika Catching contributed double digits too, with 10 points. Start your Online Sportsbook action on the Olympic Games season.
Team USA shot a disappointing 44 percent from the field. Fortunately for them and with a little credit to the U.S. defense, the Croatians could only convert on 33 percent of their field goal attempts. The game was won inside, as the United States entry scored 46 points in the paint and had 27 second chance tally's, while Coatia netted just 24 inside and 8 on retry's. The game was all but over when the U.S. went on a 16-0 run early in the final quarter.
Expect Team USA to dominate the boards again tonight against Angola who likes to run but has little size. Containing the Angolans one on one should insure consecutive victory number 35 for the United States.
Team USA is favored by 55 points on a $110/$100 moneyline. The same moneyline applies to the over/under of 148.5 total points. Open an Account for the best Sportsbook Parlay and Vegas Teaser Payouts in the Industry.