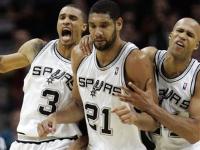 The current World Champion Spurs were on everybody's NBA Betting list, as the top team to be in the West. But this season the champions have not been their former self and not playing to the best of their abilities. Although throughout the season so far they have been given the benefit of the doubt by many insiders and basketball pundits, they have now reached a point were everybody is questioning if they will be able to compete against the other powerhouses in the Western Conference.
The fact of the matter is this, San Antonio is treading uncharted territory for them as they are facing their second losing streak of the season. With their loss to a very good Blazers team last night 111-95 they have now four loses in a row. They haven't had this happen to them since 1997. So the question is, what is happening? For starters, NBA Betting fans can say that age is definitely a factor. For more than a decade, this team has always been in stellar form, always contending for the Championship. They have been known to dose their efforts to be ready and healthy when the playoffs begin. Their experience gives this team the luxury of not caring on which spot they qualify. However, this season their careful administration of strength and rotation, are no longer a valid excuse, this team is struggling. Big time.
In Sports media some are quick to judge and point the finger at Tony Parker, who is the one who is showing more signs of a decline in his personal stats. But, Manu Ginobili and his other teammates have been quick to state that Tony is park of an overall slump that the Spurs have been going through.
But, regardless of how "bad" NBA Betting fans think the Spurs are this season, both the Knicks and Lakers wish they had the Spurs record. So that could give you a sense of perspective.